The vast majority of Americans prefer to use forks instead of chopsticks when they eat Asian food as few have much confidence in their own chopstick abilities
Asian food first arrived in the United States when the first Chinese immigrants flooded to California in the 1850s. Chinese food has since spread to almost every corner of the country, and American Chinese food has become its own distinct cuisine. So much so that, earlier this year, a Chinese-American restaurant opened up in Shanghai. America may have fallen in love with Chinese food, as well as other Asian cuisines such as sushi and Thai food, but the chopstick has been less successful.
YouGov's latest results show that Americans are reluctant to use chopsticks, even when they're eating Asian cuisine. 77% of the country say that, given the choice, they'd rather use a fork and knife when they sit down to eat a Chinese or other Asian meal. Only 23% say that they prefer to use chopsticks. Every group prefer forks over chopsticks, though people in the Western United States are much more likely to prefer chopsticks, with 40% of people in the West rejecting forks in favor of chopsticks. People in the South (83%) are the most likely to prefer forks and knives.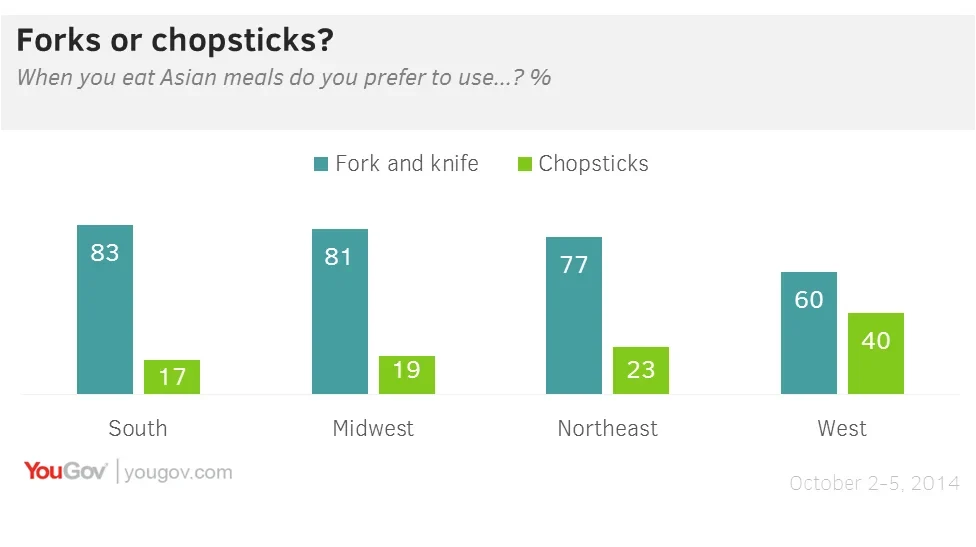 72% of Americans say that they 'love' some form of Asian cuisine. Chinese (65%) is by far the most popular, followed by Japanese (31%).
Americans' reluctance to use chopsticks is likely down to the fact that, for most of them, they just don't rate their chopstick skills very highly. 34% of the country say that their proficiency with chopsticks is 'fair' or better, while 43% say that it is 'not very good' or 'terrible'. 24% of the country have never even tried to use chopsticks.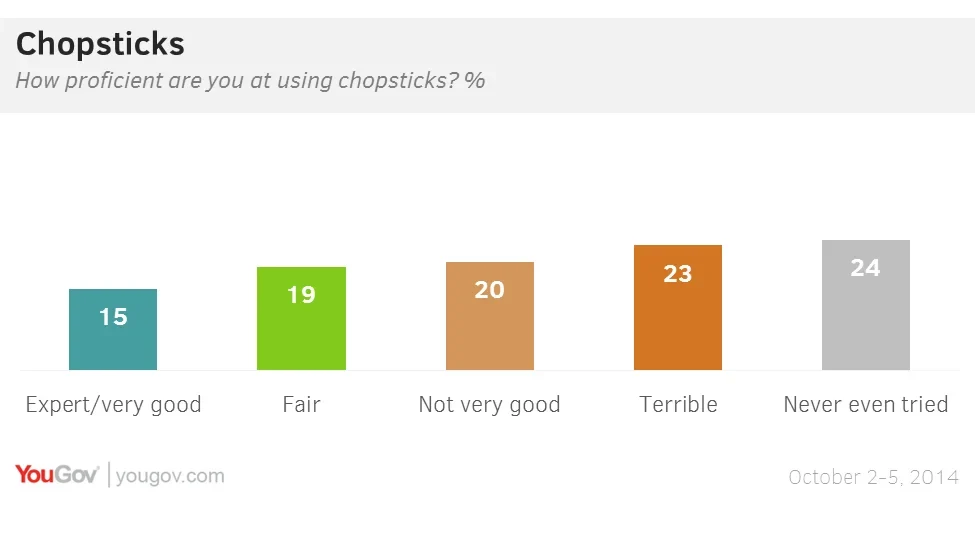 Much of the regional difference when it comes to preferring chopsticks can be accounted for by people in the West being much more likely to say that they are comfortable using chopsticks. 49% of people in the West say that they are 'fair' or better a using chopsticks, compared to 29% in the South.
Full poll results can be found here.