Americans love dressing up. Or at least they love dressing their children up.
86% of Americans have dressed up - or been dressed up - in a Halloween costume at some point in their lives. 74% were dressed up when they were young children (up to12 years old) and 50% have slipped into something Halloween appropriate as an adult.
The most popular costume ideas seem to be characters out of books, toys or movies with Dracula, Frankenstein, Raggedy Ann and Power Ranger particular favorites.
The vast majority of American adults (79%) went trick-or-treating when they were young children but the habit seems to be going out of fashion - 83% of Americans aged 55 or older remember trick-or-treating when they were young compared to only 70% of millennials. A third of American households (34%) will be giving out candy this year, with older households far more likely to store up free giveaways than millennial homes (39% vs. 30%).
Favorite brands of candy are Peanut butter cups, Snickers bars, Butterfingers and Kit-Kats. The least favorite candy by a mile is actually an apple; roughly one in nine would not be happy to receive a healthy apple in their treat bags.
Plans for Halloween 2014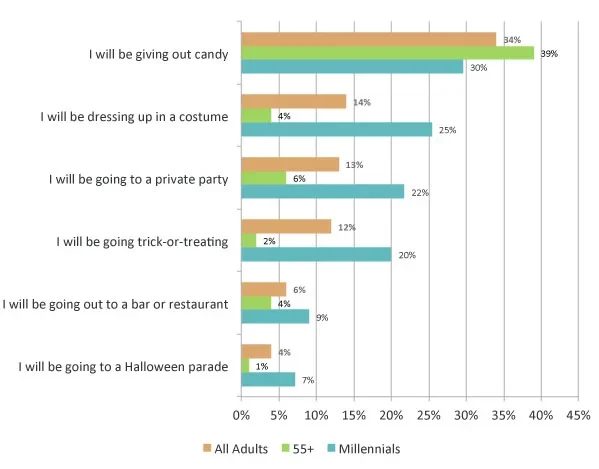 Millennials may have missed out on childhood candy but they are making up for their loss with costumes. Whilst only 14% of Americans will be dressing up this year, the millennials will be out in force, a quarter of them intend to dress up this and 22% will be going to a Halloween party.
For further information about Omnibus results, and for details about methodology and Omnibus services, please email omnibus.us@yougov.com.

Find the full results here

Image courtesy of Press Association