Most people don't think that VA has lived up to its promises to veterans, despite the widespread view that servicemembers are one of the greatest contributors to society
Veterans Day, November 11, may be a federal holiday but for many Americans it will be just another day at work, or a day at school. There is no requirement that states observe the day, or that schools close. According to the latest Economist/YouGov Poll, most workers say they will be working on Veterans Day. And only a third of the public say public schools in their area will be closed. One in four believe they will be open, and the rest aren't sure.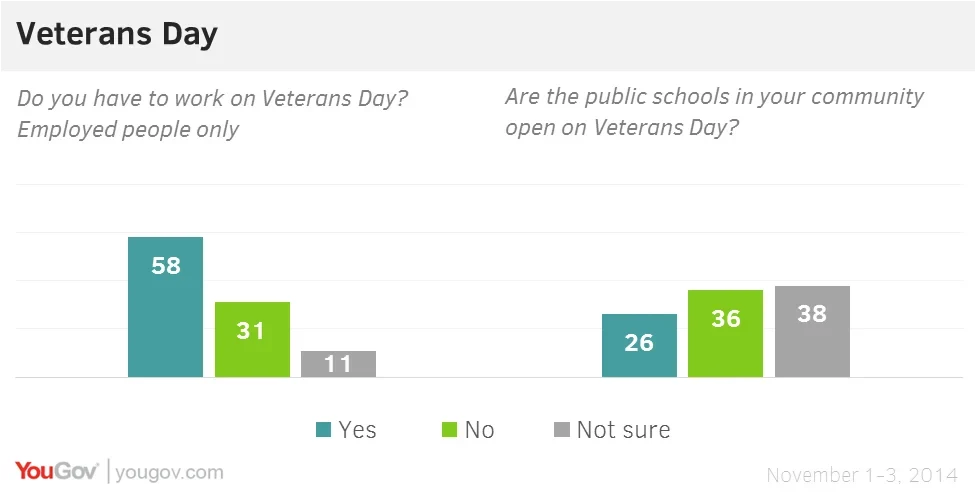 The public – veterans and non-veterans alike – has a lot to say about the purpose of the day, which is to honor all who have served. It began as an extension of Armistice Day, the date on which World War I ended in 1918 – at the eleventh hour of the eleventh day of the eleventh month. For most, the Veterans Administration isn't doing its job honoring veterans. Only 11% overall (and just 14% of veterans and current military families) think it has lived up to its motto: "To care for him who shall have borne the battle and for his widow, and his orphan."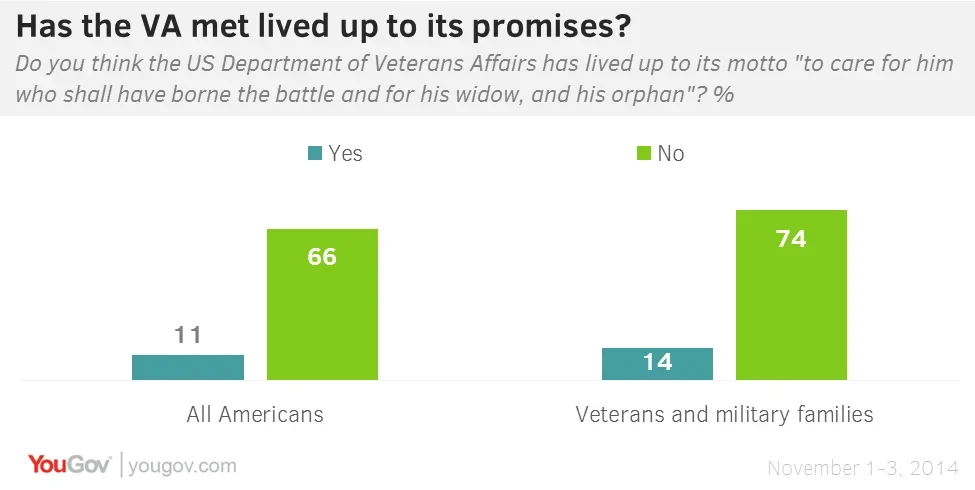 Members of the military, along with medical doctors and scientists, enjoy high regard from the public. Two in three believe each of those groups contributes "a lot" to the well-being of society – far above the percentage who think that's the case for the clergy, journalists, artists, business executives and lawyers, and just above the number who say the same for teachers and engineers.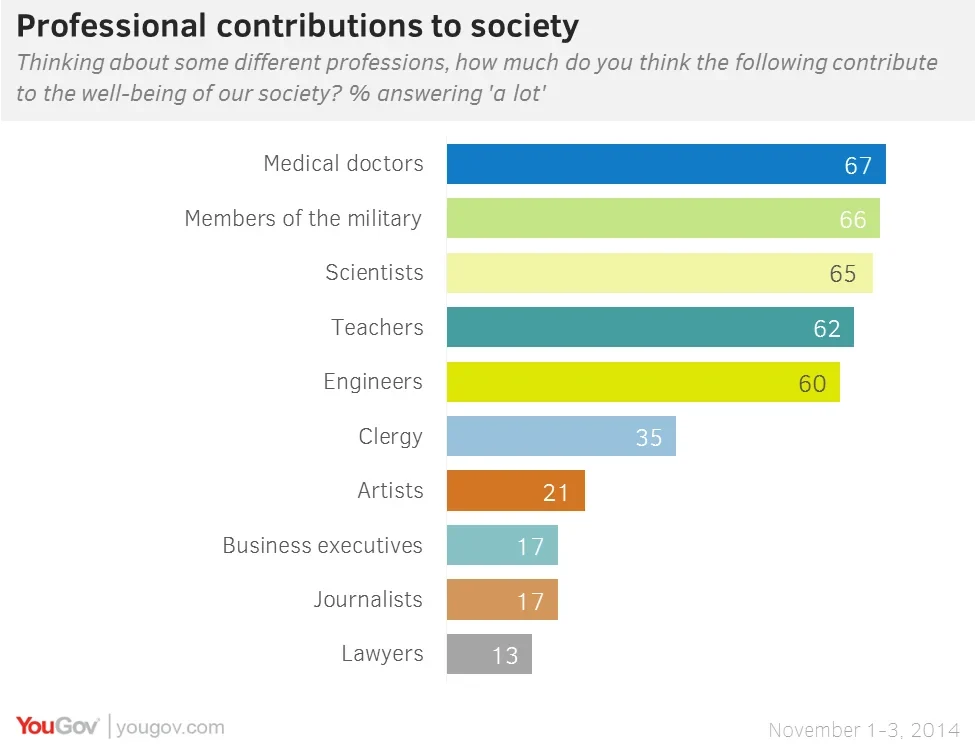 Nearly half believe lawyers contribute "not very much" or "nothing," the highest percentage saying that about any group on this list. 39% think business executives contribute little, more than a third say that about artists and journalists, and 28% even think that about the clergy.
America's high regard for veterans also is reflected in the finding that 60% would support an increase in taxes for veterans programs, the highest percentage for any of the spending programs asked about in this poll.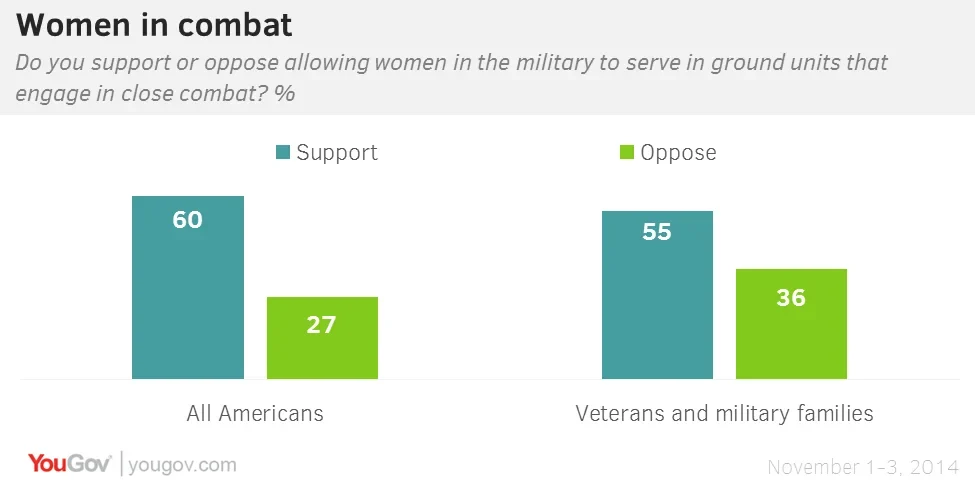 Recent changes in the American military – allowing women to serve in combat and permitting gays and lesbians to serve openly – meet with general approval. More than six in ten adults support each of those changes. And while veterans and current military families are somewhat less in favor, there is still more support than opposition.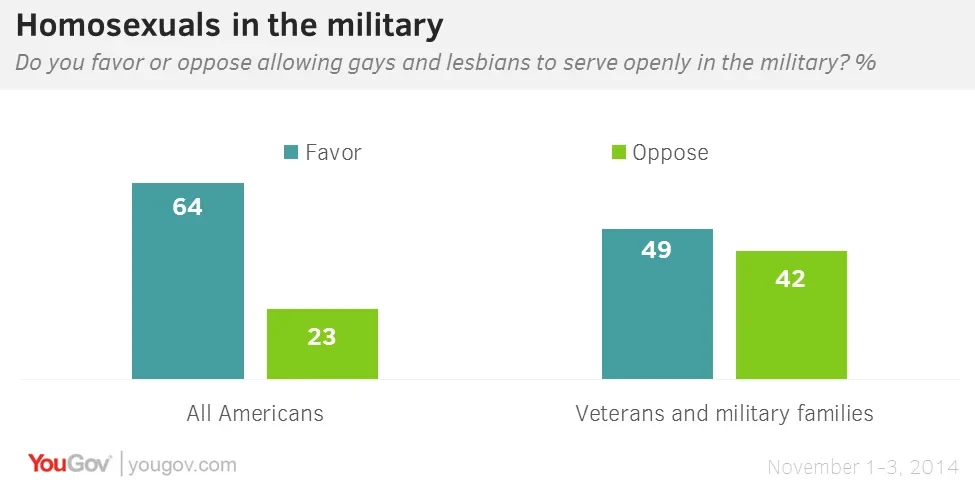 When asked if these changes have made any difference in military effectiveness, majorities of adults and veterans say these changes have had no impact on effectiveness.
But while the public holds the military in high regard, there is no movement to reinstate the draft, even among veterans and military households.
The most support for a new military draft comes from those 65 and older: 31% of senior citizens would restore the draft.
Full results can be found here.
Economist/YouGov poll archives can be found here.