More than a quarter of American employees expect to be promoted in the next twelve months. For adults employed by an organization, 28% expect to be promoted within the next 12 months, and 13% are expecting a positive change in six months or less.
Millennials are particularly optimistic with one third of millennials (33%) hopeful of a promotion within the next year.
Employees believe age has held them back from deserved promotions
More than one in five (22%) of working adults believe that they have passed over for a deserved promotion at some time in their career.
Nearly a quarter (24%) of those who thought they had been unfairly passed over believed it was because of their age. This was particularly true of millennials, 41% believing that their youth held them back.
A poor relationship with their boss was given as the reason by 20% of those passed over – a higher number of women (24%) than men 18% put their disappointment down to this poor relationship. Gender (16%) and race (13%) were also mentioned with gender cited as a cause by 24% of women compared to only 10% of men.
For SME Managers attitude is key
For senior decision makers and managers at SMEs attitude, attention to detail and interpersonal skills are far more important than age or years of experience when it comes to handing out promotions. Only 4% thought they might withhold a promotion for age, or 18% for lack of years of experience.
Nearly three quarters of SME bosses (74%) would pass over an employee for promotion if they demonstrated a poor attitude, while 69% would pass over an employee who had a poor attention to detail.
More than half (57%) of senior SME managers would hold somebody back who was unable to get along with his or her colleagues, and a quarter (26%) of SME bosses admitted they might pass over an employee they personally had a poor relationship with.
For which of the following reasons would you ever NOT give someone a promotion?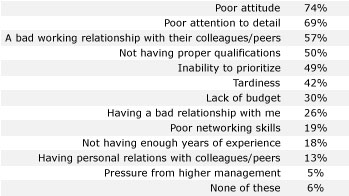 Base: SME Senior Decision Makers who manage employees
For further information about Omnibus results, and for details about methodology and Omnibus services, please email omnibus.us@yougov.com.

Find the full results here for employees and here for SME decision makers

Image courtesy of Press Association