The commercial aviation tragedies of 2014 haven't changed how Americans feel about flying
Following a year when plane crashes repeatedly made the news, Americans might have been forgiven if they'd grown more uneasy about stepping onto a commercial airliner themselves. But YouGov's data from throughout the year shows that the number of Americans afraid of flying has not risen.
In March, following the much-discussed disappearance of Flight MH370 and its 239 passengers, only 16% of Americans said they were "afraid" of flying in an airplane. Over the course of the year, there were several other widely-reported – and deadly – air tragedies: during a single week in July there were three separate plane crashes in Ukraine, Mali and Taiwan, leaving over 600 people dead in total. Yet in late July, 17% of people said they were afraid of flying – showing no meaningful change from March. In a poll conducted at the end of the year, following the crash of AirAsia Flight QZ8501 over the Java Sea, 16% say they are afraid of flying.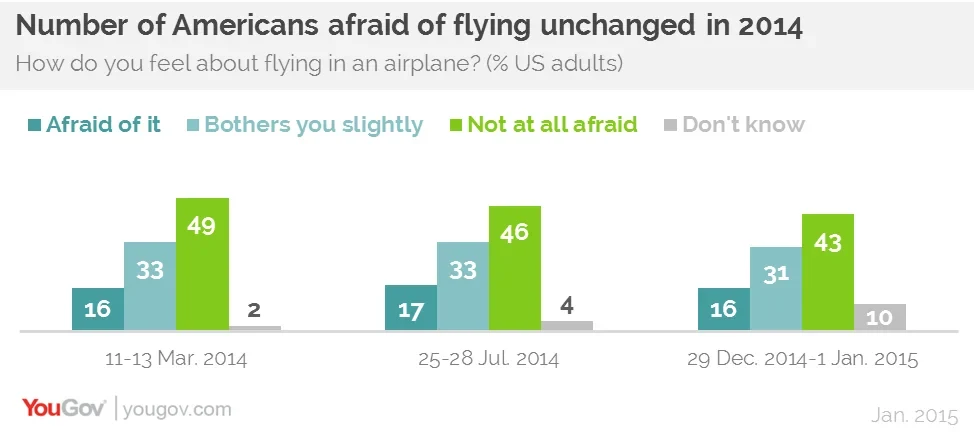 Neither has there been much if any change in how Americans rate the overall safety record of commercial airline travel. In July, 79% rated it as excellent or good. Today, the number is 80%.
YouGov does not have data from before the March disappearance of MH370, but the data from later in the year suggests individual accidents have little or no impact on Americans' overall impressions of air travel safety.
This also seems to be a case where public perception lines up with the facts. Data shows that, while there was a spike in airplane crash deaths in 2014, the number of deaths for the year was still among the lowest in modern aviation history.
PA image