According to the MTA around seven million people crowd themselves onto the New York subway system every day.
For a transport system of this size to work effectively, it requires more than just technical efficiency and manpower; it needs a hefty dose of patience from its overcrowded subway riders.
The MTA NYC Transit recently unveiled a new campaign to persuade subway users that a few courteous actions can make the commute more efficient as well as more pleasant. Placards will be installed on 2,600 subway cars and plans are currently underway to add subway car announcements to the campaign.
We asked New York subway travelers (adults who have traveled the NYC subway in the last 3 months) which three specific behaviors most bothered them by their fellow travellers.
Blocking access into and out of the carriage was by far the most irksome. 31% of riders cited riders who jumped into carriages before their fellow passengers could exit, and 28% cited door-hoggers as in their top three most bothersome behaviors. 63% of commuters who are bothered by people jumping into cars before other commuters can exit are skeptical that "Courtesy Counts" would make the line jumpers hold back, and 62% who were bothered by door-hoggers thought it would have no effect on them either.
Other popular bugbears are panhandlers (24%) and people who spread themselves out over multiple seats (22%). High volume music, not offering seats to the elderly and disabled, and dancing/playing money for music were each mentioned by 15% of subway riders.
Commuters seem to be least bothered by travelling pets, readers who take up space with their of newspapers and tablets, and by people who hold the subway doors.
Relatively few New York subway riders admitted to door hogging (14%) or pushing onto carriages before their turn (9%), but 19% admitted eating and 17% admitted to drinking beverages in the subway.
63% of subway travellers have heard of the "Courtesy Counts" campaign and 17% had seen the placards.
Which THREE, if any, of the following behaviors by other passengers bother you the most while riding the New York City Subway?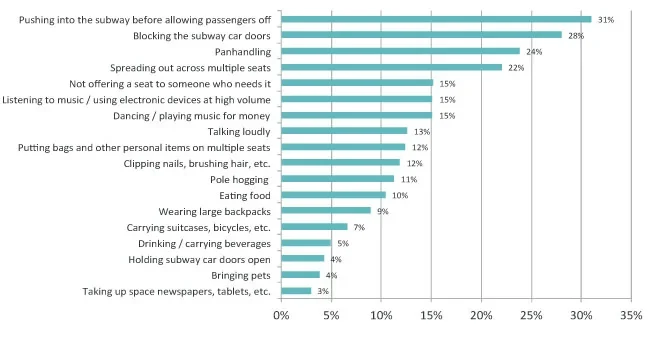 Base: NYC Adults who have ridden the subway in the last 3 months
For further information about Omnibus results, and for details about methodology and Omnibus services, please email omnibus.us@yougov.com.
Find the full results here.

Image courtesy of Press Association