Coffee is losing its traditional dominance as younger Americans turn to tea
The United States was once a country fueled by coffee and the average American was once one of the largest consumers of coffee in the world. In 1946 the average American drank nearly 46 gallons of coffee a year, compared to only 23 gallons in 2013. Americans aren't shunning all hot drinks, however, as tea has been consistently growing in popularity in recent years, with consumption growing 20% from 2000 to 2014.
YouGov's latest research indicates that a generational shift may be partially to blame for coffee's dwindling consumption. Amongst older Americans coffee is the clear favorite. 70% of over-65s say that they prefer coffee to tea, while only 21% prefer tea. Among under-30s, however, coffee and tea are equally popular, with 42% of millenials preferring coffee and 42% opting for tea.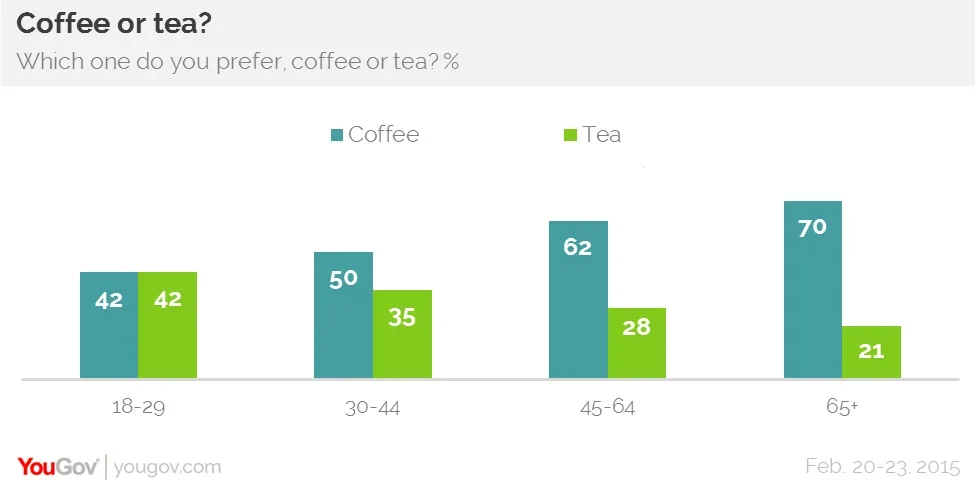 Over a quarter (27%) of under-30s say that they only drink tea, compared to 18% who only drink coffee. Combining those who only drink coffee and those who drink coffee and tea, only 57% of under-30s drink coffee, compared to 76% of people aged 45 to 64 and 83% of over-65s.