A large majority of Americans do not think public sex should result in prison time, and over a third say that they themselves have had sex in a public place
Prosecutors in the case of Jose Caballero and Elissa Alvarez have said that they are seeking time behind bars for both. The couple were recently convicted of 'lewd and lascivious behavior' for having sex on a beach in Bradenton, Florida. 40 year-old Caballero, who has a prior felony conviction, risks spending up to 15 years in prison for having sex on the public beach.
YouGov's latest research shows that, according to most Americans, having sex in public is not something that should be punished with time in prison.
Only 8% of Americans think that you should go to jail for public sex, while 17% think a punishment like probation is appropriate. 43% think couples who can't wait to get behind closed doors should only face a ticket and 14% think there shouldn't be any punishment. While 12% think that a man who exposes his genitals in public should face prison, people feel very differently when it comes to women's breasts. 46% of Americans think a woman shouldn't face any punishment for baring her chest, while 34% think it should only result in a ticket.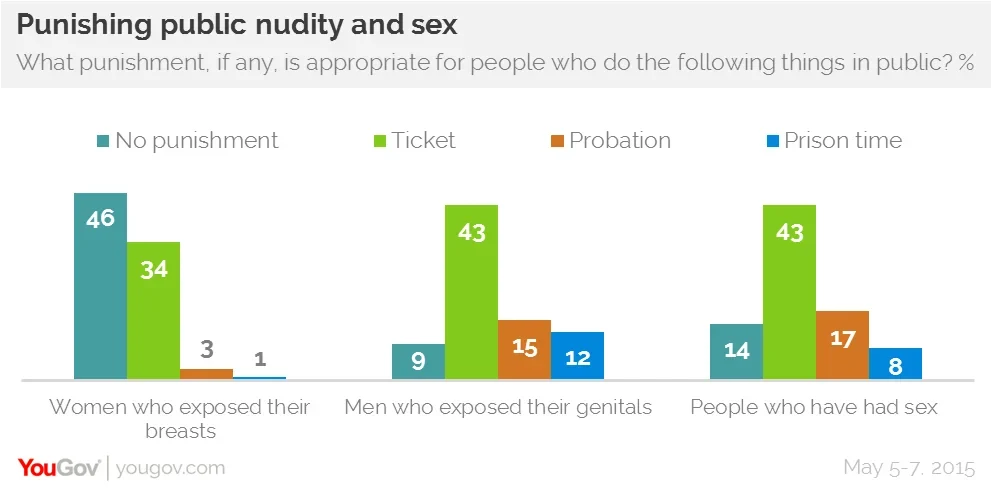 Asked whether they have had sex in a public place, 36% of Americans say that they have while 49% say that they have not. Americans between the age of 45 and 64, a group which includes the bulk of the 'Boomer' generation, are by far the most likely to report having had sex in public. 47% of people aged 45 to 64 say that they have, compared to 37% of people aged 30 to 44 and 29% of under-30s. 20% of over-65s say that they have had sex in public.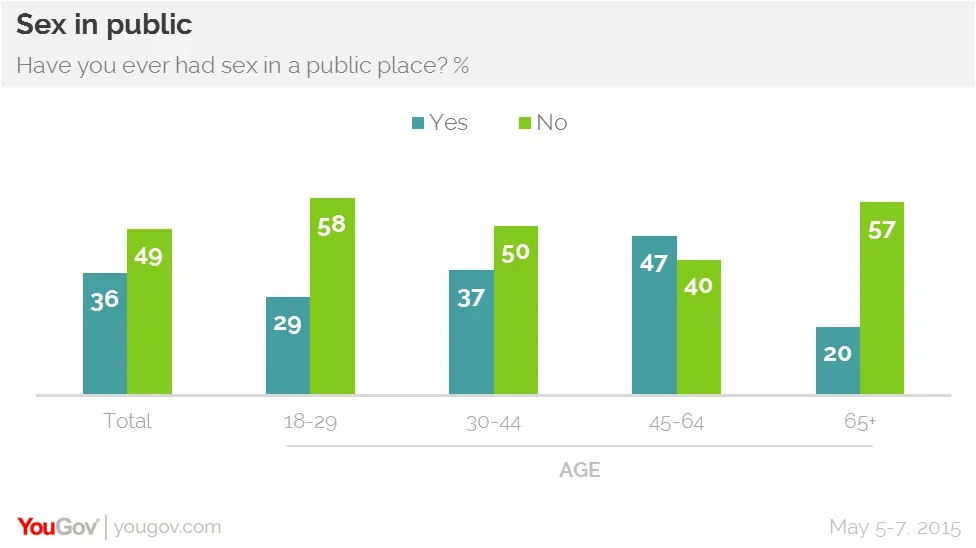 Overall, Americans think that the country is too touchy about sex and nudity. 53% of Americans agree that most are too easily offended by sex and nudity, with only 29% disagreeing. Republicans (46%) and people over the age of 65 (41%) are the most likely to disagree that Americans are too easily offended.
Full poll results can be found here and topline results and margin of error here.