Most Americans don't care that American Idol has been cancelled, and those who do care are much more happy than unhappy about it
Fox has announced that after the current season of 'American Idol' the show will be cancelled. The singing competition, which is based on a British series called Pop Idol was an instant hit and the first winner Kelly Clarkson dominated the airwaves after her win in 2002. At its peak the show drew in over 30 million viewers but last season was seen by only 9.1 million, and the final performances on Tuesday only drew 5.6 million.
YouGov's latest research shows that most Americans (62%) are indifferent to the fate of what had been one of America's top rated television shows. Only 8% of the public are unhappy about the show's cancellation, while nearly three times that percentage (22%) are happy that the show will be taken off the air. Younger Americans are the most likely to have feelings one way or another about the show's cancellation. 25% of under-30s are happy that the show is being cancelled, while 13% are unhappy. 71% of over-65s are indifferent to the show's cancellation.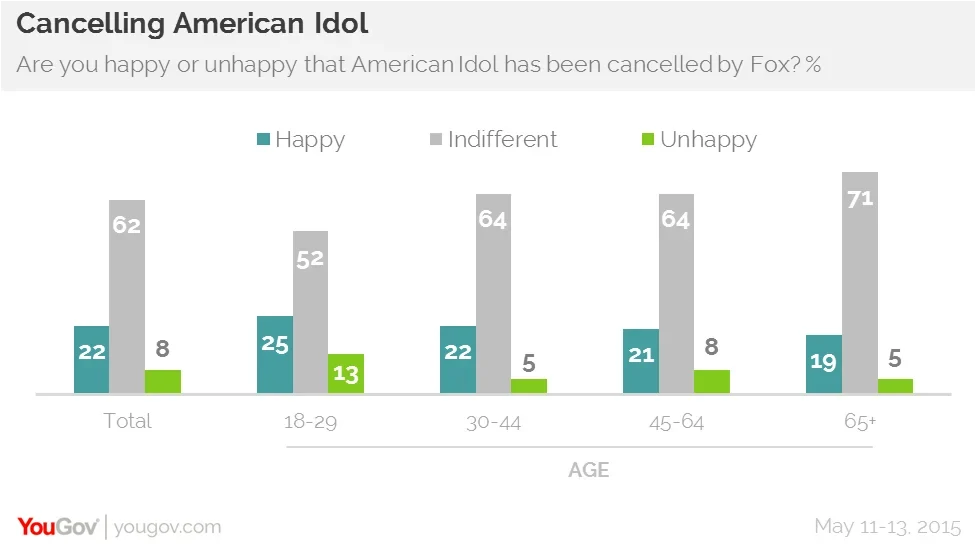 Overall, 32% of Americans say that they watched at least one season of American Idol regularly. Women (35%) are somewhat more likely than men (28%) to have watched a season, while over-65s (23%) are the least likely to say they watched a season.
Thirteen people have won a season of American Idol, but apart from Carrie Underwood and Kelly Clarkson (the first winner), most of the show's victors have faded into relative obscurity. Carrie Underwood (31%) is the most popular winner among people who watched at least one season of American Idol, followed by Kelly Clarkson (19%) and Jordin Sparks (6%) in a distant third place. Other various winners were the favorites of 23% of the show's viewers.