Nearly all Americans try to make sure unread emails don't pile up and most would be 'extremely bothered' if they had over 1,000 unread e-mails in their inbox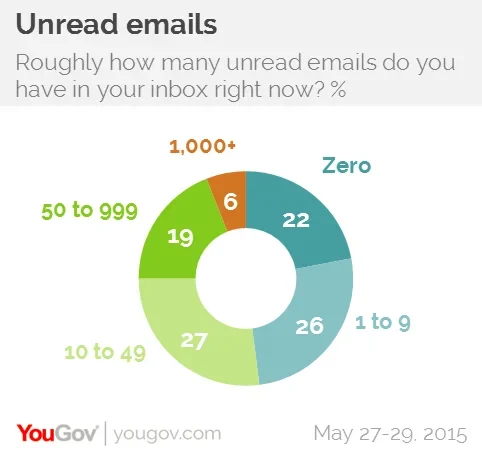 As emails have become nearly ubiquitous in the world of work, researchers are paying increasingly close attention to how emails affect our lives. One study showed that 70% of professional emails are read within six seconds of their arrival. Reading emails disrupts working patterns, but many people try to make sure that all emails they receive are marked as 'read', to avoid a slowly increasing pile of communications that need to be addressed.
The latest research from YouGov shows that among Americans who email the vast majority (79%) try to keep on top of their unread e-mails with only 18% of Americans admitting that they don't try to keep the number of unread emails as close to zero as possible.
Respondents were asked to say how many unread emails they had in their inbox at the time they answered the survey. The average adult American has 500 unread emails, though the 'median' (meaning that half of Americans have more unread e-mails while half have fewer) is only 5.
22% of people say that they have no unread emails in their inbox currently, while 26% have less than ten unread emails. 27% have between 10 and 49, while 19% have between 50 and 999 unread e-mails. Only 6% say that their unread email total tops 1,000. There is little difference between different groups when it comes to how many unread emails they have, though men (22%) are somewhat more likely than women (15%) to have no unread emails. Also, 29% of people with incomes over $80,000 a year report having no unread emails.
A significant percentage of the population would be bothered by having so many unread emails piling up in their inbox. While most Americans (51%) said that they wouldn't be at all bothered by having 10 unread emails, 48% say that they'd be 'very' or 'extremely' bothered by having 100 unread emails. 53% say that they would be 'extremely' bothered if they had 1,000 unread emails.