Over half of America now has an unfavorable opinion of Cosby and the vast majority have heard of the accusations of sexual assault
The credibility of the allegations of sexual assault and rape against Bill Cosby were burnished with the revelation last week that he bought prescription drugs to give to women he wanted to have sex with. In a 2005 deposition he admitted purchasing Quaaludes to drug women. Many of the accusations against Cosby follow a similar pattern, alleging that the comedian sexually assaulted them after providing them with a drugged drink.
YouGov's latest research highlights how far Bill Cosby has fallen in public esteem. In 1997 a survey by Gallup/CNN/USA Today reported that 90% of Americans had a favorable opinion of Bill Cosby and even in November of last year, when the first allegations were hitting the headlines, 51% of Americans had a favorable opinion of him. Today only 25% of Americans view him favorably while 59% view him unfavorably.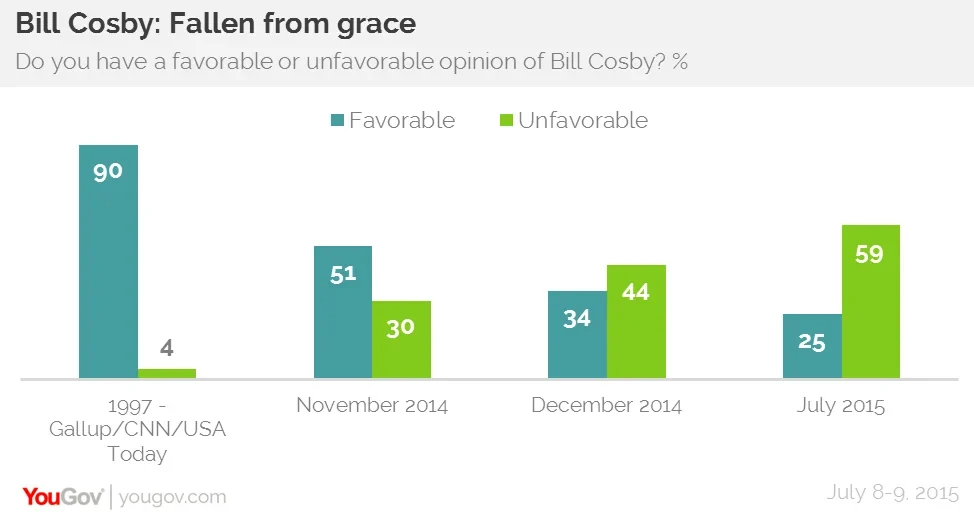 Black Americans are still largely split on Cosby, with 32% still viewing Cosby favorably and 37% viewing him unfavorably.
The vast majority of Americans (91%) are aware of the allegations against Bill Cosby and today most Americans (57%) believe the women who have accused him of rape and sexual assault. This represents a shift in opinion as in December last year only 34% of Americans believed his accusers. Nearly half of the public (46%) weren't sure and 20% did not believe them in December, compared to 11% now.