Jokes about rape are more widely reviled than jokes on any other subject, but most people say jokes about racial stereotypes can be acceptable
Republican presidential frontrunner Donald Trump has faced a widespread backlash from within the Republican Party after he talked about Fox News host Megyn Kelly by saying "There was blood coming out of her eyes, blood coming out of her wherever." This isn't the first time that Trump has used controversial language when referring to women, something Kelly noted in the Republican debate.
Trump's bluntness is often presented as an unwillingness to toe the line of political correctness, something that has won him a certain amount of popularity. A large majority of Americans (63%) say that America has become too politically correct. only 18% say that the country is not too politically correct, with even Democrats tending to say that the country is too politically correct (48% to 31%).
Research from YouGov shows that the vast majority of Americans think that jokes about rape (74%) are always out of bounds. 15% say that rape jokes can sometimes be acceptable depending on the joke while 4% say that rape jokes are always acceptable. Jokes about the Holocaust are also widely rejected, with 64% saying that joking about the death camps and genocide of World War II is always unacceptable. 66% also say it is never acceptable to joke about 9/11.
In general, however, most Americans are open to jokes about sensitive subjects, though it generally depends on the joke. While 43% say it is always unacceptable to joke about Jesus, 51% say that it can at least sometimes be acceptable. Even a topic as fraught as race is widely seen as a potential source of humor, as 12% of Americans say that jokes about racial stereotypes are always acceptable and another 46% say that racial jokes can sometimes be OK.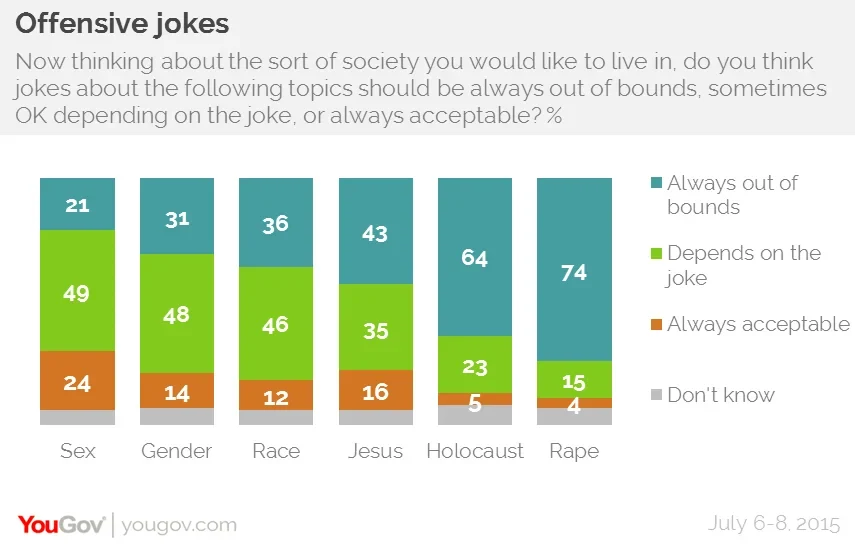 Sex is the least touchy of the sensitive subjects, with more people saying that sex jokes are always acceptable (24%) than never acceptable (21%).
Jokes about gender stereotypes are also a potential source of humor for many Americans. Just under a third of Americans (31%) say that gendered jokes are always unacceptable, but 62% say that they are sometimes or always acceptable. Jokes relying on gender stereotypes are always more acceptable among Republicans (70%) than they are among Democrats (56%), indicating that Republicans may be slightly more tolerant than others of Donald Trump's history of vulgar comments about certain women.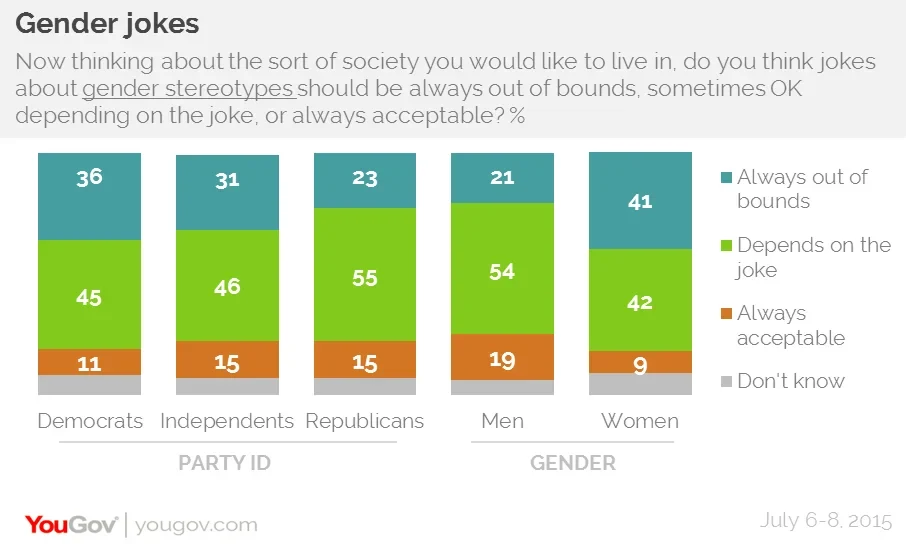 When it comes to jokes about racial stereotypes younger Americans, perhaps unexpectedly, appear to be more accepting of racial jokes than their elders. While 41% of over-45s say that jokes about racial stereotypes are always unacceptable, nearly two-thirds of under-30s (64%) say that jokes about race can at least sometimes be acceptable, with 17% saying that humor based on racial stereotypes is always acceptable.