Americans are divided on whether or not to use tax money to pay tuition at public schools, but the sentiment behind Hillary's college plan is popular
One of the major points of debate in the Democratic primary has been the growing cost of college tuition, even at state schools. The average in-state tuition was just over $9,000 in 2015, a 225% increase since 1985. Hillary Clinton announced a $350bn plan to increased federal funding for grants, states and colleges to make sure no student or family has to borrow money to pay for in-state tuition. Her main opponent, Bernie Sanders, has gone a step further and called for tuition fees at public colleges to be abolished and replaced by state funding.
YouGov's latest research shows that when Americans are asked about the core idea behind Hillary Clinton's college plan, the idea that no one should borrow to pay tuition in state, a large majority of Americans (62%) agree with the idea. The plan is particularly popular among Democrats (82%) and independents (58%). Most Republicans (52%) oppose the idea, but 38% of Republicans do think that families and students should have to become indebted to pay college tuition.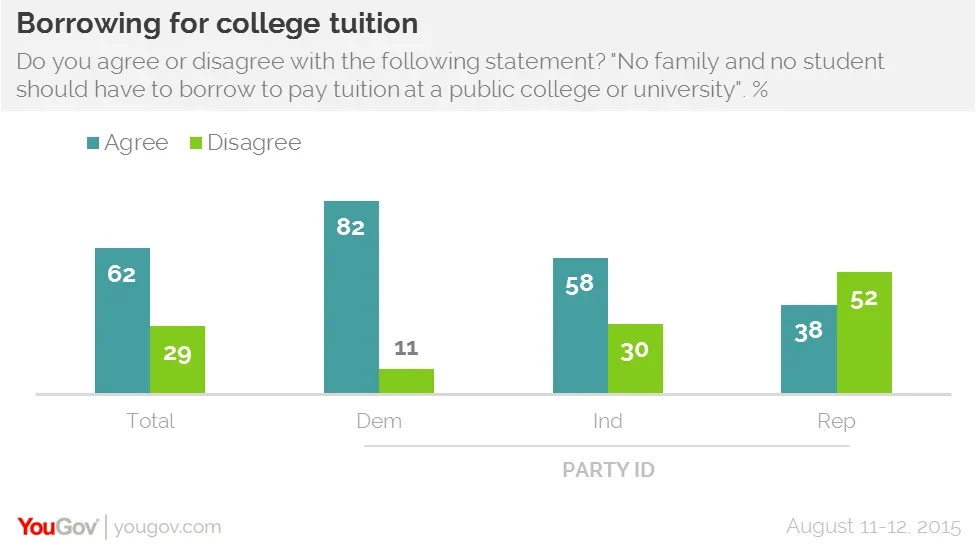 Hillary's main opponent in the Democratic primaries, Vermont Senator Bernie Sanders, favors a more generous college plan that would make college tuition free for students at public schools. In principle 55% of Americans agree with free college tuition and 46% agree with using taxes to pay for students' tuition fees.
41% of the public disagrees with the proposal, however, and attitudes are highly partisan. While 72% of Democrats support the idea, 73% of Republicans oppose it. Independents are divided 40% in favor to 42% again.