People tend to say that it is better to adopt than to use a surrogate, but most Americans say it is personally important to have biological, not adopted, children
Surrogacy is the practice by which a woman helps a couple have a child by carrying an embryo conceived by the couple, and commercial surrogacy is when a surrogate mother does it for money. Surrogacy, though still rare, is increasingly common and laws in many states are having to catch up to the reality of thousands of surrogate births each year. Pennsylvania just ruled that television star Sherri Shepherd is liable for child support payments for a child conceived by a surrogate that she later decided she did not want. In New York, which is one of the states which still completely prohibits commercial surrogacy, is considering legalizing the practice at the urging of gay rights activists.
A large majority of Americans (71%) approve of the practice of surrogacy, and most (57%) also agree with allowing surrogate mothers to charge money for carrying the child. Americans who say that religion is 'very important' to them are the only group without majority support for commercial surrogacy, but even they back it 48% to 31%.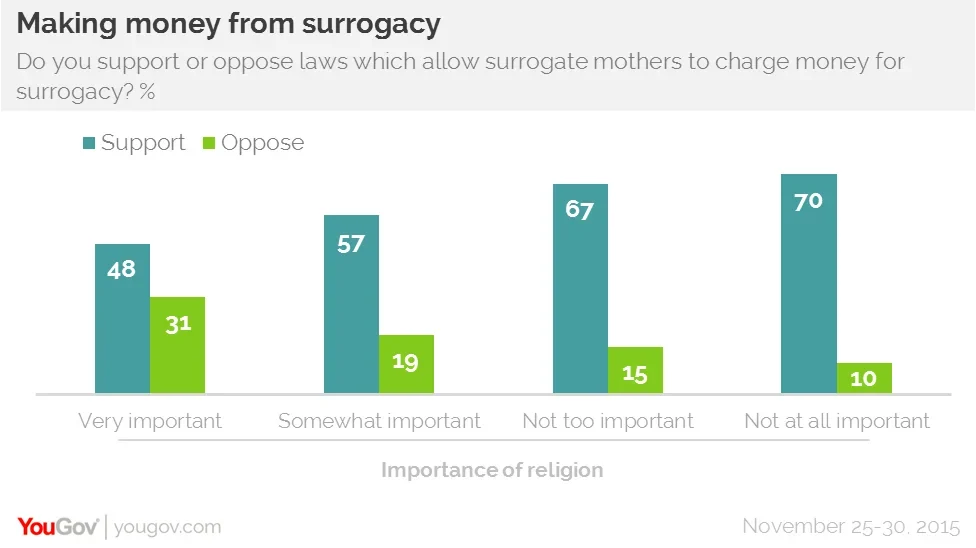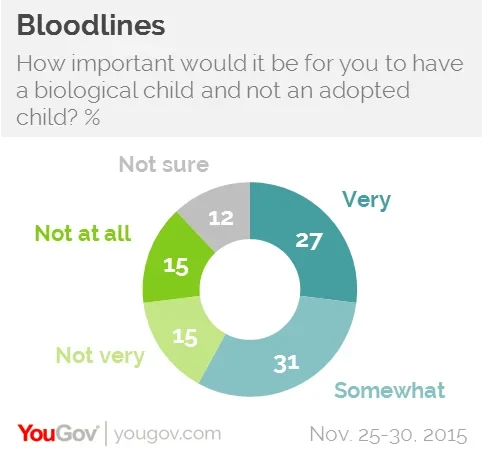 In general, however, Americans tend to say that couples who cannot conceive a child on their own should adopt a child (50%) instead of using a surrogate (15%). Large margins among every group, except black Americans (29% to 34%), say that it is better to adopt than use a surrogate.
When it comes to them personally, however, most Americans say that it would be important for them to have a biological child rather than an adopted one. 27% say that it is 'very important' for them to have a biological child, while 31% say that it is 'somewhat important'. Only 30% say that it is either 'not very' or 'not at all' important to not have an adopted child.
Even 52% of people who say that other couples should adopt rather than use a surrogate personally say that it is important for them to have a biological child.
Full poll results can be found here and topline results and margin of error here.