Americans largely say that the exclusively white Oscar nominations this year are not a result of a lack of diversity, while black Americans only view the music industry as sufficiently diverse
For the second year in a row every actor nominated for an Academy Award is white. Disagreements over why the Oscars lack diversity at the highest level are common, but the most common explanations are that the membership of the Academy is too white, too old and too male, and that there are simply too few films made which employ non-white actors or are produced by non-white executives.
The latest research from YouGov shows that most Americans (51%) say that the lack of any non-white actors in this year's nominations for the Academy Awards is because the best performances happened to be by white actors, not because of a lack of diversity in the nominating process (29%). Nearly two-thirds of white Americans (62%) say that it was simply because the best performances were by white actors, but three-quarters of black Americans say that it was because of a lack of diversity. Hispanics are split evenly, with 45% saying that the all-white nominations are due to a lack of diversity and 44% saying that the best performances were by white actors.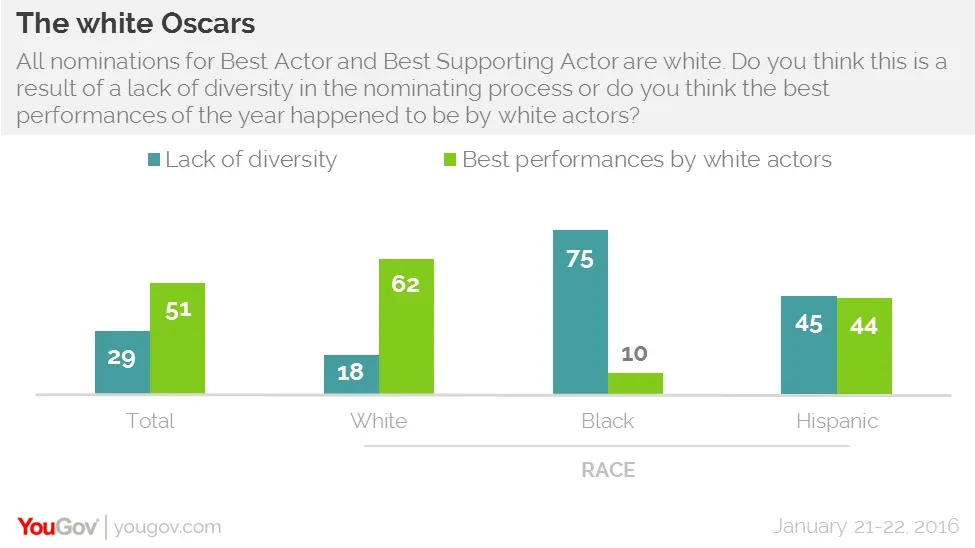 Most Americans view all the major entertainment industries as being sufficiently diverse. Black Americans disagree, however. In the movie industry specifically, 54% of all Americans (and 62% of whites) say that Hollywood is sufficiently diverse. Only 21% of black Americans agree, while 64% say that Hollywood is not diverse enough. Only the music industry is viewed as sufficiently diverse by a majority of black Americans (58%).