New data from YouGov Omnibus reveals that smartphones are closer than ever to becoming an extension of the body
In June 2014, when discussing a case on cellphone privacy, Chief Justice John Roberts wrote that modern smartphones have become so ingrained in daily life that "the proverbial visitor from Mars might conclude they were an important feature of human anatomy."
A new survey conducted by YouGov Omnibus confirms that this is not far from the truth. Just over 50% of millennials report that they now carry their phone in their hand throughout the day. For those aged 35-54 and 55+, that number came in at substantially lower rates (30% and 16%, respectively). Millennials, then, aren't putting their phones away at all.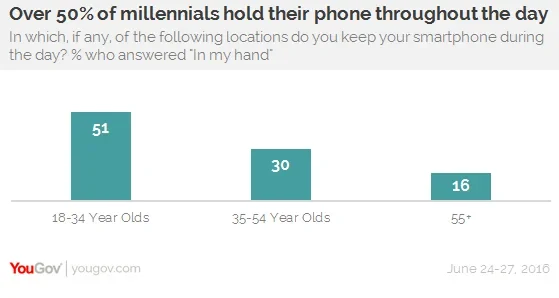 Other options available to respondents, who were asked to state where they keep their smartphone during the day, included pants pocket, jacket pocket, table surface, purse/handbag, or somewhere else. (Respondents could select all applicable answers.) While pants pocket received the highest percentage across all three age groups (58%, 39%, and 44%, from youngest to oldest), the in-hand option was the second-highest selection for young people aged 18-34.
The survey also found that 48% of young people wished their smartphone was more durable (shatterproof screen, water resistant, etc.), compared to 40% of those aged 35-54 and just 28% of those aged 55+. This makes sense, given that millennials tend to hold their phone in their hand, thereby exposing the device to rain and snow, and increasing the chances of an accident. Indeed, young people were the only cohort to express more concern about their phone's durability than its battery life.
As smartphone ownership continues to rise, perhaps the next question is when we start implanting them into our hands and heads permanently. And when we make them indestructible.