New data from YouGov Profiles reveals that young people now think of social media as their primary source of news
More and more, it seems, people are putting less and less faith in mainstream media's ability to report the news in a fair and accurate manner. The public's trust in mass media has fallen to record lows, and today's media landscape is more fractured than ever.
Recent data from YouGov Profiles reveals that adults aged 18-34 are now more likely to say that social media networks, as opposed to television, are their primary source of news (22% to 21%). For all older age groups, TV remains the dominant source of information.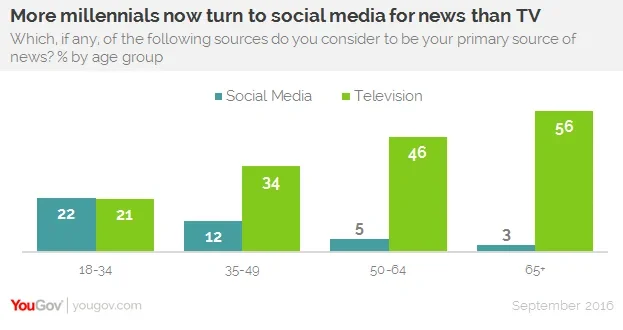 34% of people aged 35-49, for instance, say that TV is their main source of news, compared to just 12% who say social media. For people 65 years old and up, the gap rises to 53 percentage points — 56% to 3%.
Radio and printed newspapers still play a role in keeping many people updated on the latest events and happenings, but the future doesn't look bright for either medium. YouGov Profiles shows that millennials are more likely to get news from an app on a mobile device or tablet than radio and printed newspapers combined.