New data shows that only 12% of consumers oppose a store's pledge to remain closed on Thanksgiving Day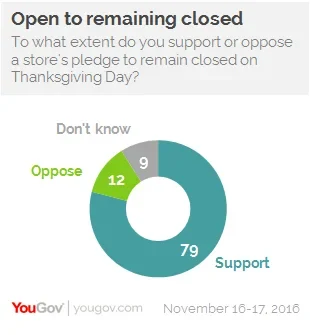 Costco. Ikea. Marshalls, Neiman Marcus, and Petco. Even the Mall of America — the nation's largest shopping center.
What all these businesses (and plenty others) have in common is that they'll be closed on Thanksgiving Day, allowing both their employees and customers more time to spend with friends and family. Some analysts are calling this closed-doors policy a backlash against the growing trend of starting Black Friday sales earlier and earlier, year after year — even if that means cutting into the national day of thanks.
A new survey from YouGov shows that the public largely favors this stance, with 79% of US adults reporting that they support a store's pledge to remain closed on Thanksgiving Day. Only 12%, on the other hand, are opposed to the idea.
Further data shows that 44% of the public considers Black Friday, and its digital cousin, Cyber Monday, a distraction from the holiday season, which includes all the celebrations that occur between Thanksgiving and New Year's Eve. By contrast, 31% believe Black Friday and Cyber Monday have become a part of the holiday tradition.
When it comes to giving gifts, the majority of consumers (63%) prefer a personal item, such as something handmade or infused with sentimental meaning, as opposed to the latest and greatest device on the market. The same is true for what people want in return: 61% indicate that they'd prefer receiving a personal gift instead of, say, this season's most popular video game console.