One third of men refuse to dance, but just under half of people who say they are bad dancers enjoy dancing anyway
As the weather cools and leaves clutter the sidewalks, the post-Thanksgiving reality of Christmas parties looms, and with it the potential for eggnog-fueled dancing. While some relish the opportunity to dance, many, especially men, are lukewarm participants at best.
Research from YouGov shows that men are noticeably more reluctant to get on the dance floor than women. Most women either say that they get the dancing started (11% to 8%) or that they happily dance once others are (41% to 24%). 63% of men, however, either need to be dragged onto the dance floor (29%) or flat out refuse to dance (34%).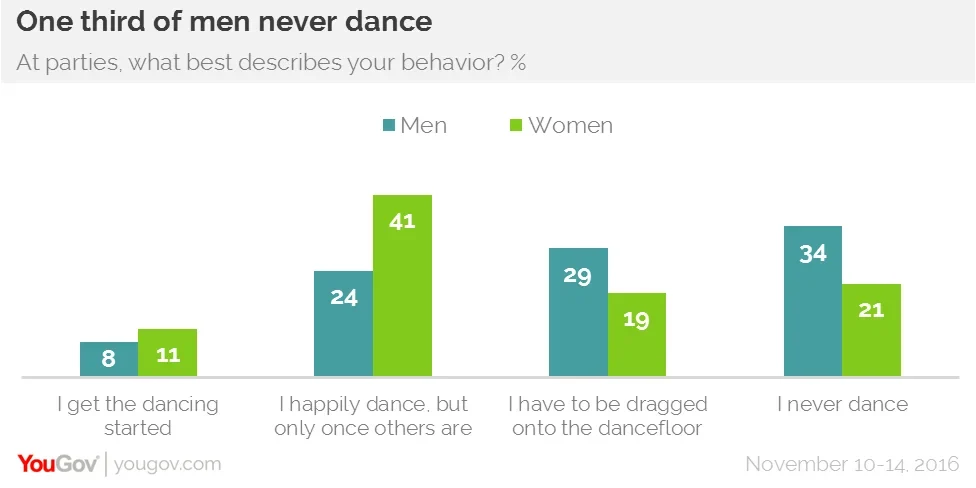 Men tend to be more critical of their dancing skills than women. 20% of women think that they are 'great' or 'good' dancers, compared to 13% of men. 47% of men think that they are 'bad' or 'terrible' dancers, compared to 20% and 12%, respectively, for women.
How much someone enjoys or does not enjoy dancing strongly correlates with how good a dancer they are. The vast majority of both good dancers (97%) and average dancers (88%) enjoy it, but among 'bad' and 'terrible' dancers, 48% dislike dancing, though 45% like dancing regardless.