As Americans grow older, the more content they are to remain single
Bachelorette season is once again upon us, which means roughly a dozen weeks of themed memes and the inevitable social media drama-storm. The end-goal of the reality competition is an engagement between the bachelorette and one of her suitors, a conclusion which often ends up sparking many heated internet debates surrounding topics like marriage and "true love."
While The Bachelorette might tout marriage as the penultimate symbol of success, a new YouGov survey shows that over a third of US adults between the ages of 34 and 54 have never been married (34%). While this group of individuals is well past the average marrying age of Americans, 31% are happy to remain single. Millennials are less likely to be interested in staying single (24%), but 45% of those 55+ view being romantically unattached as positive.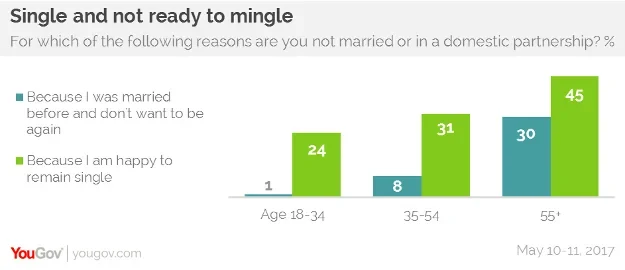 In fact, of single adults age 55+, 30% have been married before and never want to be again, and 29% said they still had not found the right person. Finding Mr. or Mrs. Right might be a bit more elusive than reality dating shows would have us believe.
Of married individuals who participated in the survey (47% of respondents), 73% got married because they loved their significant other, but only 48% entered into marriage because they felt they had found their life's partner. While the majority of married respondents may not have gotten hitched with longevity in mind, only 8% of all survey takers were currently divorced.