8% of millennials are currently involved in sugaring
With the already exorbitant price of college tuition only creeping higher and higher, and rent in large cities continuing to inflate, millennials are searching for new ways to earn a little spare cash. One of the more controversial ways is through becoming a sugar baby—someone who enters into a platonic, romantic, or sexual relationship with another person (referred to as a sugar daddy or momma) in exchange for money or gifts. While the practice of sugaring is extremely contentious, a staggering 3.25 million Americans have signed up to join SeekingArrangement, a site that connects sugar babies to potential daddies/mommas.
While sugaring might not be a universally accepted practice, a new YouGov poll shows that 61% of US adults have heard of the term "sugar baby." Those who are currently in college, or have been to college, are even more likely to know what a sugar baby is—likely due in part to the high concentration of sugar babies on many university campuses. For instance, 70% of those with a 4-year degree are familiar with sugaring.
Given that the sugaring community is largely made up of students, it comes as no surprise that millennials are the demographic most active in the sugaring community. 8% of those 18-34 are currently a sugar baby, sugar momma, or sugar daddy.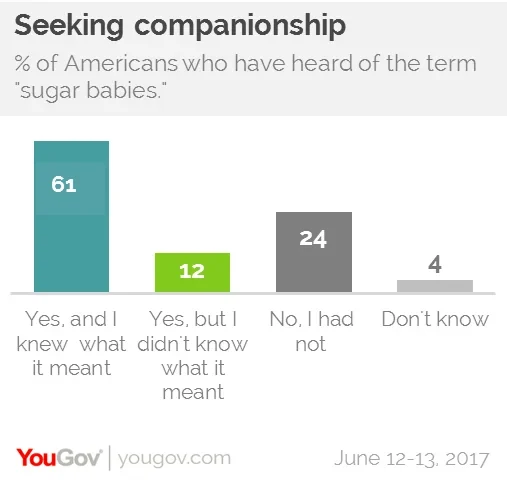 Even though there are vastly more females on SeekingArrangement than males, 6% of American men currently act as a sugar daddy or sugar baby, in comparison to 3% of women working as a sugar baby or mama. Similarly, 11% of men know someone participating in sugaring, but only 6% of women do.
Various publications have argued that SeekingArrangement is just a website for monitored, controlled prostitution. Sugar babies and prostitutes are often conflated, despite the fact that engaging in sugaring is not inherently sexual. Despite ongoing debates, how Americans view legislation around the two topics is very similar. 43% of US adults oppose banning sugaring, while a near identical 44% want the government to reconsider their current stance on prostitution.