18% of men want to have sex every day – but only 9% of women do
There's nothing less sexy than prescribing numbers to sex, but just how often are Americans doing it?

New YouGov data reveals that 14% of the public say they have sex a few times a week and the same amount say it happens a few times a month. Only 4% of Americans have sex every day.

When asked how much sex people actually want to have, Americans still say a few times a week would be ideal (26%). In this case though, 18% of men say they'd like sex every day – only 9% of women want the same.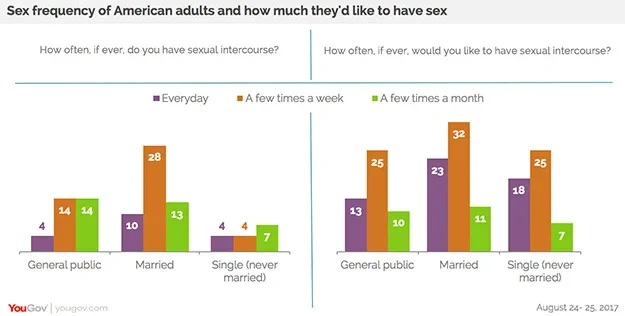 40% of married Americans believe that singletons have more sex than people in relationships, while 36% of single Americans believe that those a relationship have more sex. YouGov data shows that the latter is right. Nearly three in four married respondents have sex at least once a month, compared to only one in three single respondents for that same time period. It seems like when it comes to sex, humans can't help but want what they don't have.
Getting down to the details reveals that most Americans (28%) have sex in two positions and 19% say they'll change it up at least three times. Americans with children under 18 are more likely to partake in more than 2 sexual positions than those without kids. Americans early on in a relationship (1-5 years) are also the most likely to have sex in in 3 different positions (41%) but the data suggests that the longer a relationships lasts, the lower that likelihood becomes.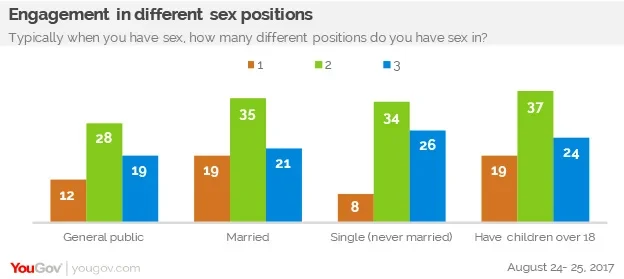 Sex is a crucial part of ensuring the survival of the human species but how vital is it in a relationship? 65% of Americans believe that it's important to prioritize sex even if both people are tired or busy. Those in a relationship longer than 10 years are most likely to believe this (83%). A word from the wise though, nearly 1 in 5 of Americans in a relationship lasting over 20 years say that a good sex life is not important to a healthy relationship.
See the full results here