Over a third of Republicans believe it's harmful
It wasn't so long ago that living with a partner before getting married was viewed as immoral and shunned by many. Yet, with divorce rates at their highest between 1980 and 1990, many are still wary today of pledging vows if they're not ready. Couples have started to move in together prior to getting married to test if they're compatible with one another, and a recent YouGov poll confirms that in 2017, a majority of Americans (44%) say that cohabiting with a partner prior to marriage is a beneficial relationship practice.

LIVE SURVEY RESULTS
Research from YouGov Omnibus also shows that fewer than one in five Americans (19%) say they see premarital cohabitation as harmful. Indeed, more are willing to say that it has no effect (21%) on a relationship than say that it's a relationship pitfall. A look at opinions of men and women reveals that gender differences are narrow. Slightly more men (46%) than women (42%) say that they think that it would help a relationship if a couple moved in together before marriage.

A look at responses by political ideology shows that Republicans disagree with the general public on this topic. In their eyes, premarital cohabitation does more harm (35%) than good (31%) and they're the only political party to say so. More than half of Democrats (53%) see a benefit in living together before marriage and few (12%) say that it could do any harm.

LIVE SURVEY RESULTS
Americans who live in the West are the likeliest of their regional cohorts to say that premarital cohabitation is beneficial (50%). The Northeast (48%) seconds this answer and the Midwest (42%) and South (39%) round out the rest of the geographical regions with mild agreement.

The association between living together before marriage and premarital sex makes this a contentious religious issue for many. Nearly two-thirds (63%) of those who live in the South consider themselves religious, while 51% of those in the West say the same.

For many, marriage and sex will always be tied to religion but as younger Americans say they're less religious, the ideas become much more secular. YouGov Profiles shows that spirituality varies significantly by age; more millennials say that they're not religious while more of those 45 and over say that they are religious. Middle-aged Americans (35-44) are split on the issue of spirituality.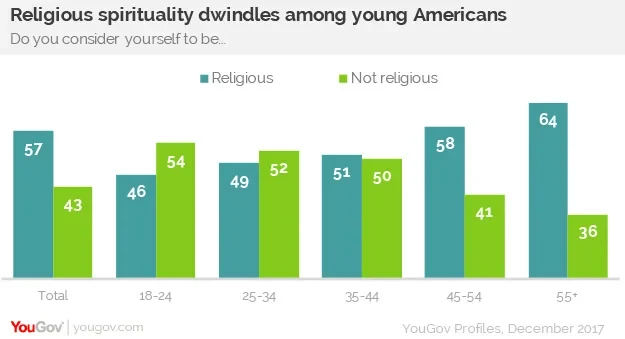 The idea that marriage and sex is now seen as a secular, rather than religious, phenomenon in conjunction with dwindling spirituality in younger Americans, might explain why millennials are more enthusiastic about premarital cohabitation than their elders. Over half of millennials between 25 and 34 (51%) say they see living together as a benefit to a relationship. The issue might be the most pertinent to this age group as data shows them as the likeliest age group to say they would get married in the next six months.
LIVE SURVEY RESULTS
Of Americans over the age of 55, four in ten (40%) say that they view premarital cohabitation as beneficial. In fact, they are more likely to say they see no effect with living together before marriage (26%) than say it's harmful (19%).
ead more results from this pollLearn more about YouGov Omnibus and YouGov Profiles
Image: Getty