Over 40% of women plan to eat better, exercise more, and save money next year
According to a recent poll conducted by YouGov Omnibus, women are more likely than men to make New Year's resolutions for 2018 in the area of self-improvement.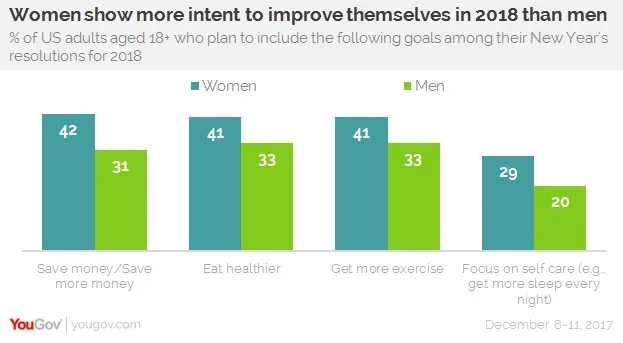 In total, 42% of women intend to either save money or save more money in the new year, compared to 31% of men. Likewise, around four in ten women (41%) say they aim to both eat healthier and get more exercise in 2018, while only one-third of men (33%) plan to do the same. Furthermore, 29% of women say they want to focus on self care, such as getting more sleep each night, compared to 20% of men.
As for committing to other New Year's resolutions, such as making new friends, reading more, or taking up a new hobby, women and men reported more or less equal rates.
Overall, 31% of women and 33% of men said they have no plans to make New Year's resolutions for 2018.
Image: Getty
Read more results from this poll here