41% of Americans think a short-term relationship is worthwhile and a fifth would date someone this winter to avoid loneliness
Cuffing season – a period of time when singles are more likely to commit to a short-term relationship rather than engage in casual affairs – is in full swing with all the cold weather the US is getting. The phenomenon is one that many in the US are familiar with – over a third say that they believe that cuffing season is real (36%), though only 16% say that they have felt the urge themselves. Like ice, these relationships are meant to eventually thaw out but many people think that's okay; 41% of Americans say a short-term relationship is still worthwhile.



Research from YouGov Omnibus shows that men are more likely than women (47% to 35%) to say that deliberately dating someone for a short period of time is worthwhile. Nearly the same amount of women (32%) are likely to say that short-term relationships are a waste of time. Across age groups, middle-aged Americans (35-54) are the most likely to feel that short flings are worth it . Millennials appear to be conflicted over shorter relationships, with 40% saying it's worth it and 36% saying that it's a waste of time. Near a third of Americans (30%) think it's not worth engaging in any short term dating.

Given that many say there's value in dating someone even for short period of time, YouGov surveyed sentiment around the phenomenon known as "cuffing season" and popularized by younger Americans. When it comes to the group most familiar with cuffing season, over half of millennials (52%) say they believe in cuffing season. A quarter (25%) of the same group say that they've felt the urge to settle into a relationship with someone in winter but slightly more (27%) say that while they believe in cuffing season, they haven't felt the need to get into a relationship.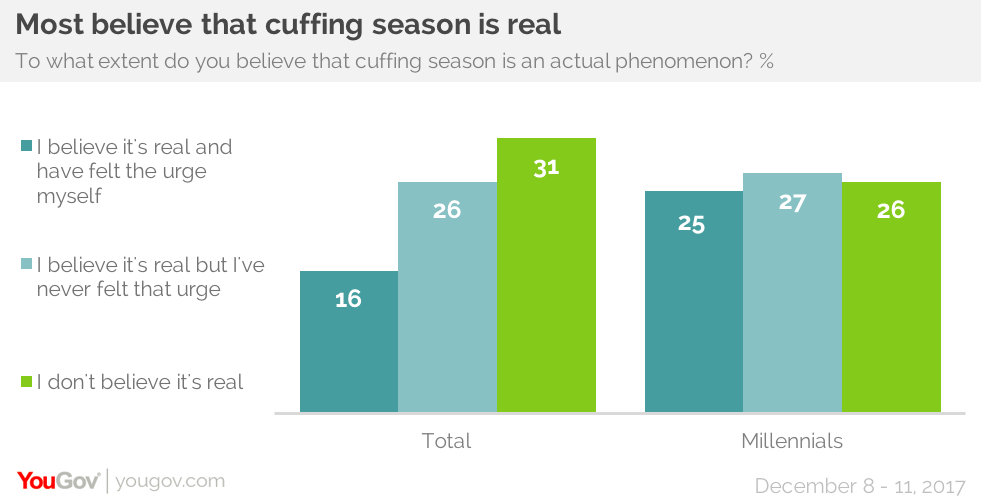 Americans over the age of 55 are the only age group more likely to say the phenomenon is made-up (37%) than say it's real (20%). But most in that age group say they don't know if cuffing season is real or not (42%).

The poll reveals a multitude of reasons why someone might want a romantic relationship only in winter. The top three reasons are having someone to simply hang out with (21%), cuddle and stay warm with (20%), and not feel lonely (20%) during the cold winter. The next most popular incentives are having someone to have sex with (18%), enjoying winter activities like ice-skating with (13%), and being able to bring that person as a "+1" for a holiday or family party (13%).

Millennials in particular say they would date someone during cuffing season for those reasons. In that age group, only 39% say they wouldn't want a short-term relationship this winter (compared to 50% of all Americans). They are more likely to say that having someone to stay warm with (28%) and not feel lonely (26%) are their top reasons but also show greater enthusiasm for other incentives like having a sexual partner (23%) and someone to binge TV shows with (18%).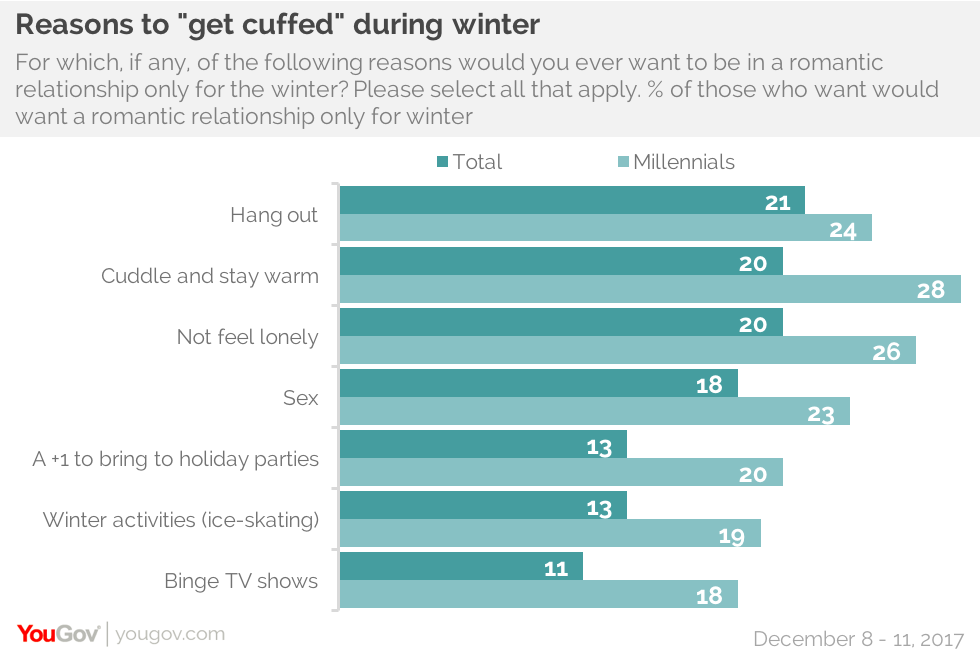 Read more results from this poll here

Learn more about YouGov Omnibus research

Image: Getty