Only 10% of Americans said they wanted to meet a future romantic partner online
American adults would still rather meet offline than online, according to the latest Economist/YouGov Poll. Even those under 30, a group that is more likely than any others to have met a romantic partner online, claim by two to one they would rather meet a future romantic partner offline than on.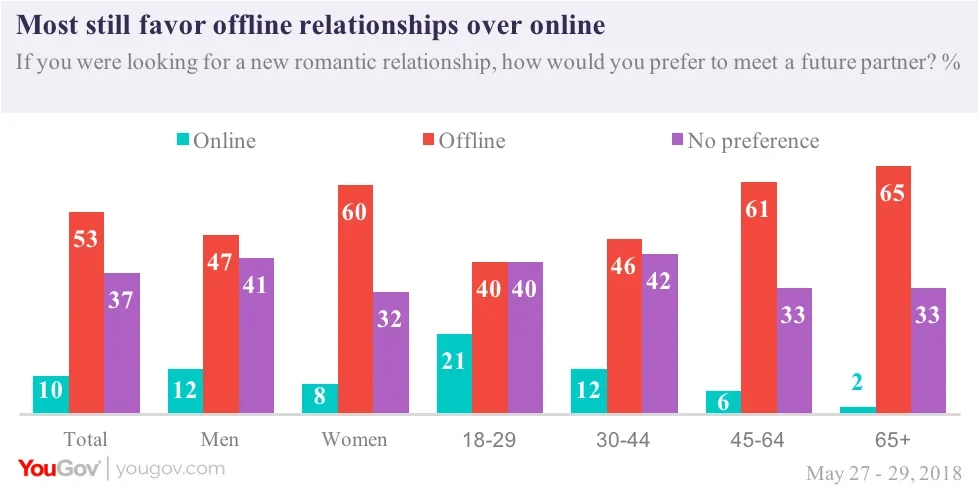 Desire to meet online drops sharply as age rises, and is especially low among those 45 and older. Men are more likely than women to express no preference as to where to meet a partner and to prefer online meetings.
Half of all adults say they are currently in a romantic relationship, so for them this question may be hypothetical. But their answer is the same as the answer given by those currently not in a relationship. Few of those currently in a relationship say they met their partner online – with the exception of those under 30. One in three under 30s in a relationship report meeting their partner online.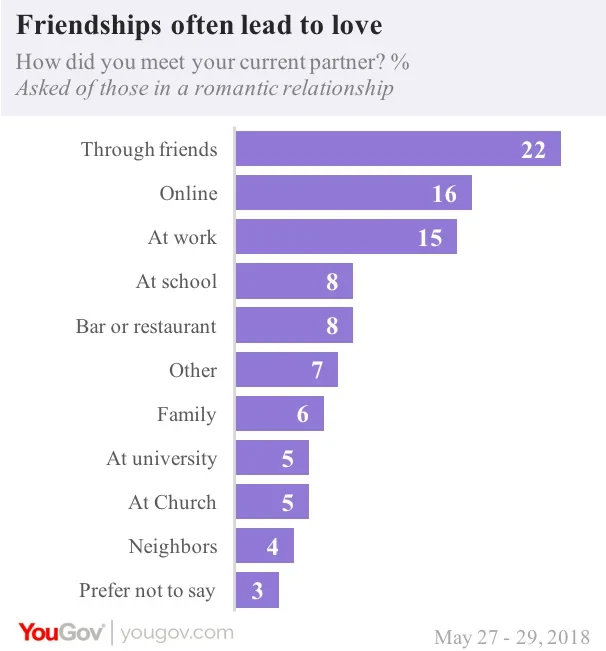 For the public overall, friends appear to be the most instrumental in bringing people together, followed by the internet, the workplace, and schools and universities. Only 8% say they met their current relationship in a bar or restaurant – and that is much more the case for older adults than younger ones.
Would people currently in a romantic relationship use dating apps or websites to find a new romantic relationship? About a third say that would be likely, not much different from the answers of those not in a current relationship. Nearly half of those under 30 say they would use dating websites or apps to find another romantic relationship, but just 16% of those 65 and older would. 40% of men say they'd likely go online, compared with just 24% of women.
There are also gender differences in offline behavior. Men are more comfortable than women approaching someone or being approached in a public space. One in three women are not comfortable at all about approaching someone, and one in four would not at all be comfortable being approached.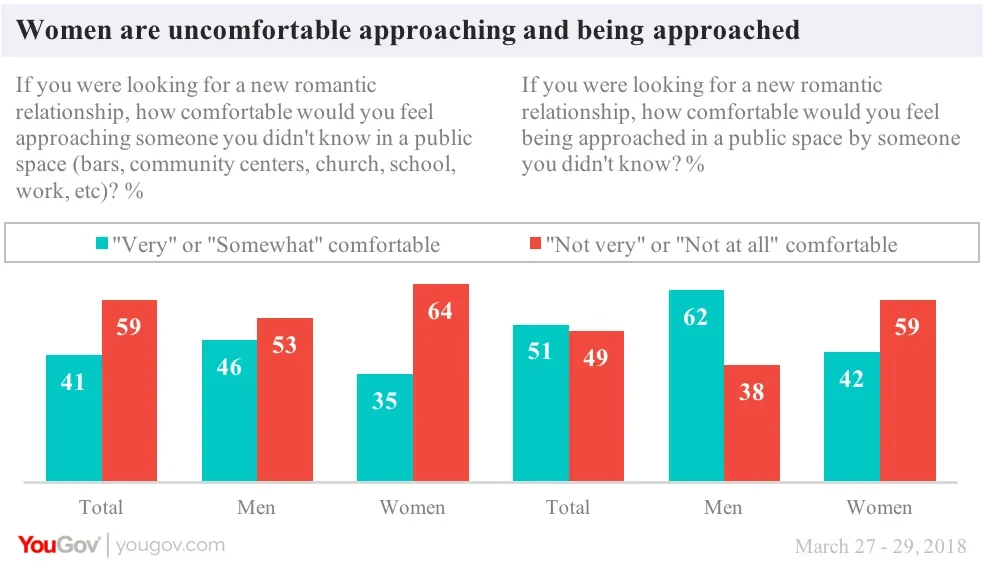 Age seems less important than gender here. Those now in romantic relationships claim to be somewhat more comfortable than those not in relationships to approaching and being approached.
Not all of those who are attached to someone else by marriage or by domestic partnership say their relationship is romantic. Only 80% of married people say "yes" when asked if they currently are in a romantic relationship.
Read more results here.
Photo: Getty