Men are three times as likely as women to use dating websites/apps for casual sex, while a third of Americans think they have killed romance
They say cheaters never prosper, but that's not stopping some people from trying anyway. New data from YouGov Omnibus shows that 7% of people who have ever used dating apps or websites have used them to cheat on a significant other. One in six (17%) current users of dating apps or websites say that this is one of their reasons for using them.
Millennials (11%), parents of children under 18 (11%), and people who are married (10%) are also particularly likely to say that cheating on a partner is one of the reasons they're using a dating app or website.
YouGov's research reveals the other main motivators for using dating apps/sites. Nearly half (49%) of adults who have ever used a dating app or website use the services is "to find an exclusive romantic partner, while four in ten (39%) use them "to have something fun/interesting to do."
Approaching a quarter (23%) of users say that having casual sex is one of the reasons they've used the services, with men (33%) being three times as likely as women (11%) to list this reason.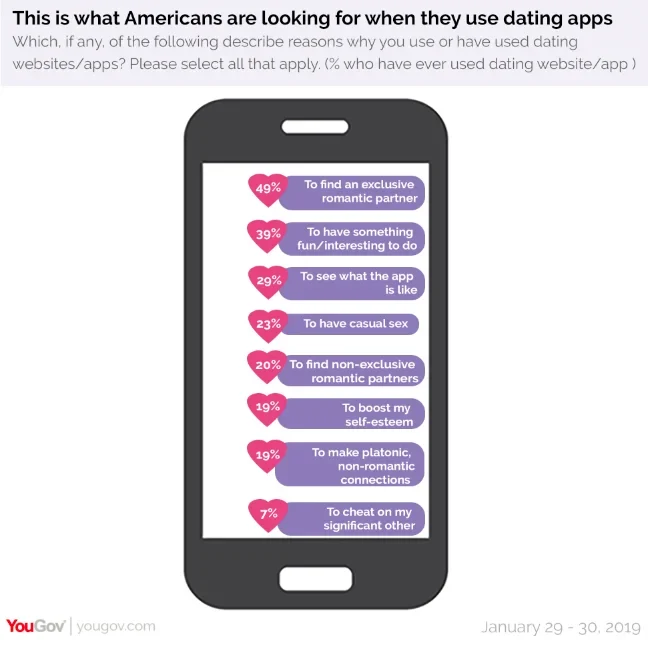 YouGov's research shows that nearly a third of Americans (32%) have ever used dating websites/apps, a figure that rises to 44% of millennials and 39% of Gen X'ers. But despite their relative popularity, many Americans still hold negative views about them. The word that Americans are most likely to associate with dating apps is "dangerous" (41%), although this figure falls to 29% among people who have ever used them.
The data shows several notable differences between how users and non-users describe online dating services. The most commonly chosen words among users are "interesting" (42%), "convenient" (39%), and "fun" (36%), while those who have never used them tend to choose terms such as "dangerous" (48%), "shallow" (28%), and "pointless" (23%).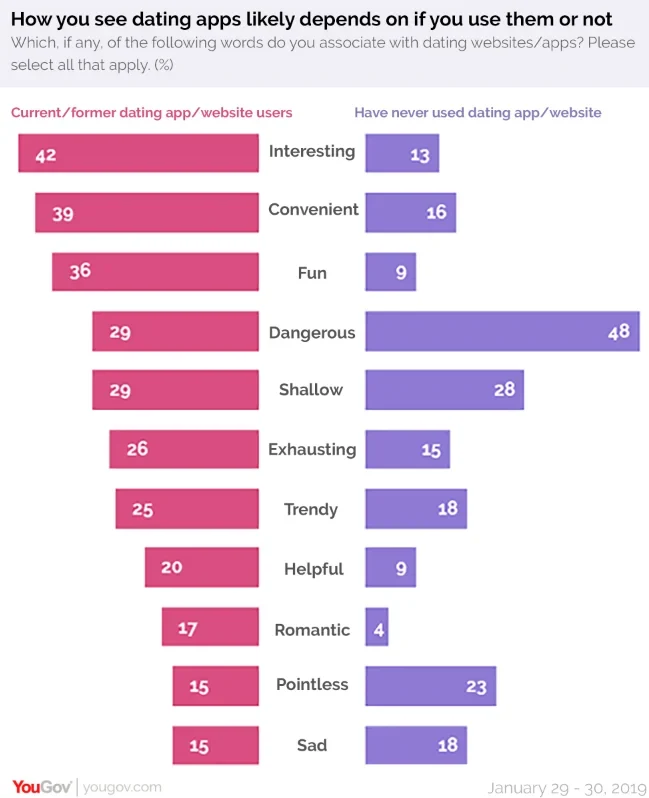 One in three (33%) Americans believe that dating websites and apps have "killed romance." Those who either are using or have used the services are split on this on this with 34% thinking they have "killed romance" while 36% disagree.
Almost two-thirds (64%) of Americans, including a majority (57%) of users, say they would prefer to meet their romantic partner without using a dating app or website. Roughly four in ten (39%) Americans — and 42% of users — believe dating websites/apps are for people who can't meet romantic partners offline or in-person.
In spite of the fact that many Americans think these services are dangerous and only for those who can't form relationships offline, nearly half (47%) of people report that they or someone they know has met a romantic partner through a dating app.
See full results here.
Learn more about YouGov Omnibus.
Image: Getty