48% of people say they are funnier than their siblings
You might not agree, but your sibling probably thinks he or she is funnier than you.
According to a new YouGov Profiles poll of more than 25,000 siblings, a plurality (48%) believe they are either "much more funny" or "slightly more funny" than their siblings. Even if your brother or sister don't believe they earn more laughs, a little more than one in four (28%) say they are "about as equally funny" as their siblings.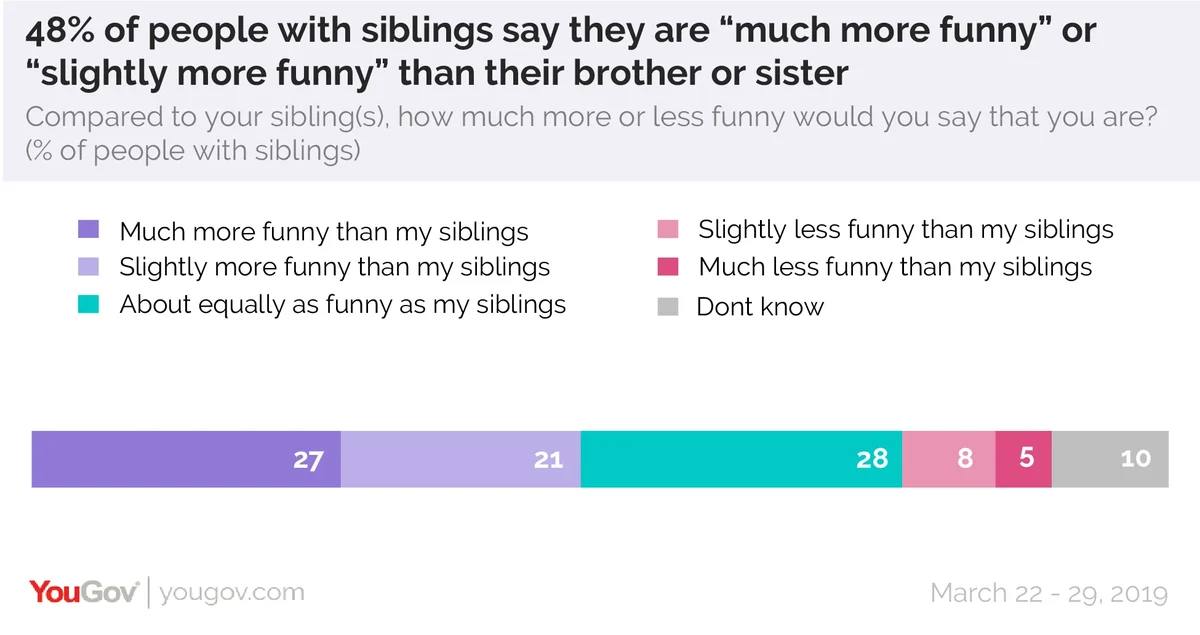 Just 13% of individuals with a sibling assume they are less funny than their siblings. Another 10% of siblings are unsure about where they stand in the sibling-humor lineup.
Further data from YouGov Profiles shows that men are more likely to consider themselves funny in the family—53% of males with siblings say they are "much more funny" or "slightly more funny" than their siblings. In comparison, just 42% of females with siblings say the same.
Learn more about YouGov Profiles and sign up to be a panelist here.
Methodology: Total weighted sample size was 30,206 US adults aged 18+. Sample was rebased to 27,125 in order to exclude respondents who selected answer options: "N/A - I don't have any siblings." YouGov Profiles uses digital tracking technology and daily online surveys to collect a variety of opinions, attitudes and behaviors. Interviews were conducted online between March 22 - 29, 2019.