Across Canada, people are hitting the gym, meeting with financial advisers and taking up new hobbies in January in the annual effort to better themselves in the new year.
Nearly three in 10 Canadians (29%) planned to make New Year's resolutions this year, according to a YouGov survey conducted in December 2019.
The most common resolutions among Canadians who plan to do so — or aren't sure ⁠— are to exercise more (51%), save money (49%), eat healthier (48%) and lose weight (42%). Canadians' 2020 goals are similar to those reported by Americans.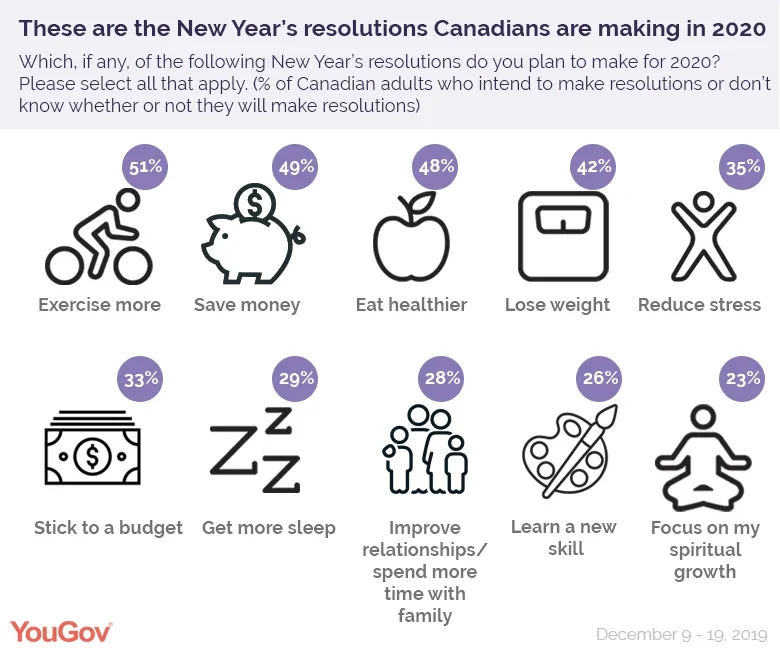 Females (51%) are particularly interested in shedding pounds compared to males (30%).
Many also intend to find love or improve relationships: More than a quarter (28%) of Canadians with resolutions want to improve relationships/spend more time with family; Nearly 1 in five (18%) want to make more friends or improve relationship with their partner; and one in ten want to start a romantic relationship.
Confidence among these resolute Canadians seems high as 72 percent say they are somewhat or very confident they will generally be able to stick to their New Year's resolutions.
These goal-oriented Canadians are persistent. Nearly nine in 10 (87%) say some or all of their 2020 resolutions are the same as last year. And many are optimistic. Just over half (51%) of Canadians with resolutions believe their life will be somewhat or much better in 2020, compared to the 12 percent who believe their life will be somewhat or much worse this year.
See the full survey results and sign up to be a part of the YouGov panel.
Related: Exercising more and saving money are the most popular 2020 New Year's Resolutions
Methodology: Total unweighted sample size was 1,051 Canadian adults, which includes 440 Canadian adults who said they intend to make New Year's resolutions in 2020, or were unsure if they were planning to make resolutions. The figures have been weighted and are representative of all Canadian adults (ages 18+). Interviews were conducted online between December 9 - 19, 2019.
Image: Getty