Ballots are in for Sunday's Academy Awards - and those cast by authorized Oscar voters are being counted. Americans, too, have voted in the latest Economist/YouGov Poll. Many aren't sure what to like, and most say the Oscars really don't matter.
By three to one, the public says that awards, like the Oscars, only represent the views of the people who vote for them, and don't mean much for ordinary people.

And nearly seven in ten say they pay little or no attention to the results. But younger adults - who are more likely than older Americans to go to the movies - claim to pay somewhat more attention.
42% of Americans say they have seen NONE of the movies nominated this year for Best Picture. That number rises to 58% among those 65 and older. So it's no surprise that majorities say they don't know which movie should be Best Picture, or which persons should be voted Best Actor or Best Actress.
But those with an opinion have favorites, even though sometimes people who admit they haven't seen the movies or performances they support. The choices follow conventional wisdom and other award announcements.
"The King's Speech" is the choice for Best Picture. Colin Firth, who plays King George VI in that movie, is now the public's first choice for Best Actor (two weeks ago, he was tied with Jeff Bridges of "True Grit" for that honor with the public), and Natalie Portman the choice for Best Actress for her work on "Black Swan".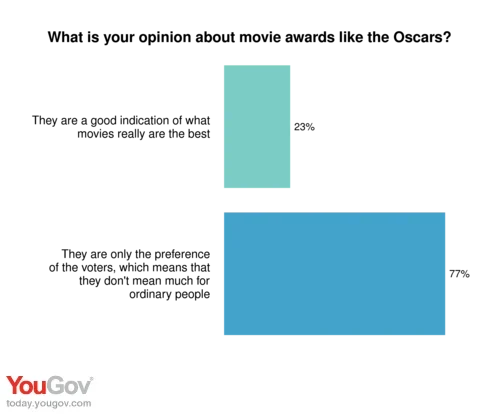 Image source: flickr (Davidlohr Bueso)