If you're looking to earn a reputation as the best trick-or-treating stop on Halloween, you'll need to know which candies kids love to see and steer clear of ones that may send them screaming. But which are which?
To discover which Halloween treats kids want most, YouGov showed 703 U.S. children ages 8 to 14 a series of match-ups. Each match-up included two potential trick-or-treat items selected randomly from a list of 76, consisting of candies marketed especially around Halloween as well as candy alternatives.
Each match-up asked kids to choose which item they would prefer to get. The potential choices shown in a match-up ranged from brand-name sweets to candy-alternative snacks — such as apples, granola bars, and nuts. The Halloween foods were then ranked by their "win percentage," that is: how often each treat won when it was included in match-ups presented to the kids. YouGov polled children of members only when both the children and their parents agreed to the children's participation. After being provided with YouGov's children's privacy notice, the 8- to 14-year-olds were given the choice of whether to participate in the poll with their parent's permission.
The most popular item for kids to snag on Halloween night is Reese's Peanut Butter Cups. The chocolate candy won 75.9% of its match-ups, a series of sweet victories that landed it in first place. It is perhaps an unsurprising victor: It constantly ranks atop lists of best-selling Halloween treats in the United States. Reese's Peanut Butter Cups are followed closely by the Original M&Ms candy, which landed in second place by winning 72.8% of its match-ups. Rounding out the top three is the Milky Way bar, which won 70.6% of the time it was given as an option.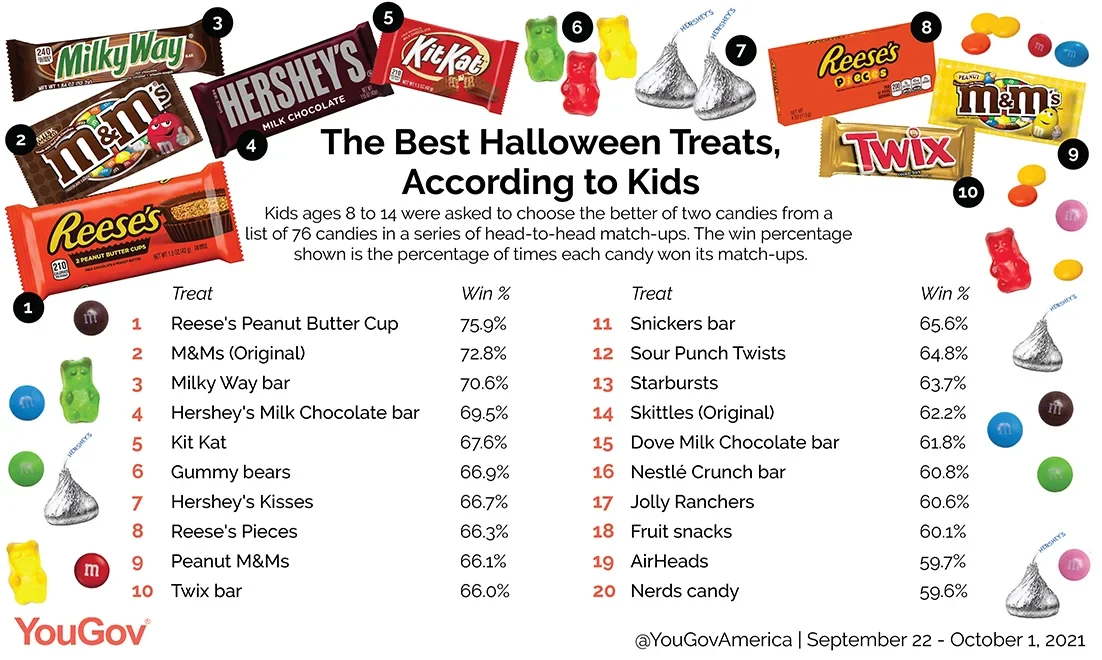 Children like chocolate best, but sometimes favor fruit flavors
Besides gummy bears, kids' consensus picks for top 10 Halloween candies are all predominantly chocolate. Several non-chocolate treats won spots in the top 20, though — making them acceptable options for Halloween night but also a bit more likely to get skipped over in the trick-or-treating bowl.
The most popular sour candy is Sour Punch Twists (64.8%), with the fruit-flavored favorites of Starbursts (63.7%) and Skittles (62.2%) following closely behind.
The top ranked hard candy, Jolly Ranchers, appears at spot 17 with a win percentage of 60.6%. The most popular "candy alternative" provided on the list is definitively fruit snacks — many 8-to-14-year-olds would choose a packet of them over many candies on the list.
Kids do not want black licorice on Halloween
Unless you want a spell cast on your house by a disappointed pre-teen in a Hogwarts gown, skip the black licorice for trick-or-treaters. The chewy candy landed in the bottom spot of YouGov's poll, winning just 16% of its match-ups.
Kids preferred several of the candy-alternative snacks over black licorice on Halloween, including a snack-sized bag of cookies (41.7%), a snack-sized bag of pretzels (41.2%), caramel apples (40.6%), a beef jerky stick (38.8%), snack crackers (37.7%), an orange (35.9%), a granola bar (35%), mints (32.5%), mixed nuts (32.5%), an apple (32%), or even sugar-free gum (30.1%).
See how kids rank your favorite Halloween candy below (and good luck being the best stop on the street!):
—Data analysis support by Mark White
See the toplines from this poll. For more information on this YouGov poll, email uspress@yougov.com
Methodology: All figures, unless otherwise stated, are from YouGov Plc. Total sample size was 703 U.S. children ages 8 to 14. The survey was carried out online. The figures have been weighted and are representative of children ages 8 to 14.
The respondents were asked to choose which Halloween food they liked better in a series of head-to-head match-ups that could include 76 different items that someone could give out on Halloween. The poll's introductory text stated, "On the next eight screens, we are going to show you two things that someone might give you while you are trick-or-treating for Halloween this year. On each screen, we want you to click the one that you would rather get if you were going trick-or-treating." Each participant saw 8 match-ups that showed the names of two different Halloween foods. Each of the 76 items appeared in at least 126 match-ups; foods for each match-up were selected randomly. The survey was conducted between September 22 - October 1, 2021.
YouGov asked its members who identified as parents if their child ages 8 to 14 would want to take part in a poll of children's opinions. While YouGov needed parental permission for its members' children to take part in the poll, the child also needed to voluntarily participate. After being provided with YouGov's children's privacy notice, the 8- to 14-year-olds were allowed to opt into the poll with their parent's permission.
Image: Getty