(Week of 8/4/2012) Just as the U.S. gymnastics team has impressed Olympics judges, it has also impressed fans back home. Gymnastics scores high with the American public when it comes to naming the country's favorite Olympic sport, as nearly 27% in the latest Economist/YouGov Poll call gymnastics their favorite Summer Olympics event.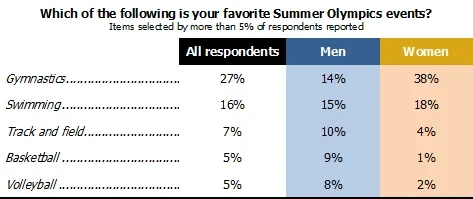 But while a far larger percentage of women choose gymnastics than choose any other event, swimming narrowly edges out gymnastics as the favorite event among men. Track and field, basketball, and volleyball follow the two top-ranked sports.
Slightly less than one in four Americans claim they don't know what their favorite sport is, while nearly 30% say they haven't watched the Olympics at all (with women more likely than men to be non-viewers). But over seven in ten adults have been watching, and the top ratings for NBC, which is broadcasting the Games, are reflected in this poll. 17% of Americans, and even more with family incomes over $100,000 a year, say they have been watching at least three hours of coverage a day.
Although Republican presidential candidate Mitt Romney managed the Winter Olympics in 2002, his supporters are slightly less likely than President Obama's supporters to have been watching these Olympics.
Economist/YouGov poll archives can be found here
Photo source: Press Association