The role of fathers has changed over the last few decades, according to most Americans. A recent YouGov poll conducted just before Father's Day highlights the contradictions of modern fatherhood, as well as the expectations and responsibilities surrounding it. While fathers tend to agree that the role of fathers has increased and become harder, they are divided as to whether fathers today are doing a better or worse job than their predecessors.
Most adults think the role of fathers has shifted in terms of quality, quantity, and effort. By a margin of two-to-one, Americans think that fathers today are playing a greater, rather than lesser, role in the lives of their children compared to the previous generation of fathers. Regardless of whether they think the role of fathers has increased or decreased, most Americans appear to think an increase would be a good thing. Nearly nine in 10 who say fathers have become more involved say this change has been a good thing. About eight in 10 people who say fathers' role has decreased, on the other hand, view this perceived change negatively.
Americans are divided on whether fathers today are doing a better or worse job as parents compared to fathers in the prior generation, though slightly more say better than say worse. There is some consensus, however, on the notion that fatherhood is more challenging today than in the past. Few say it is easier.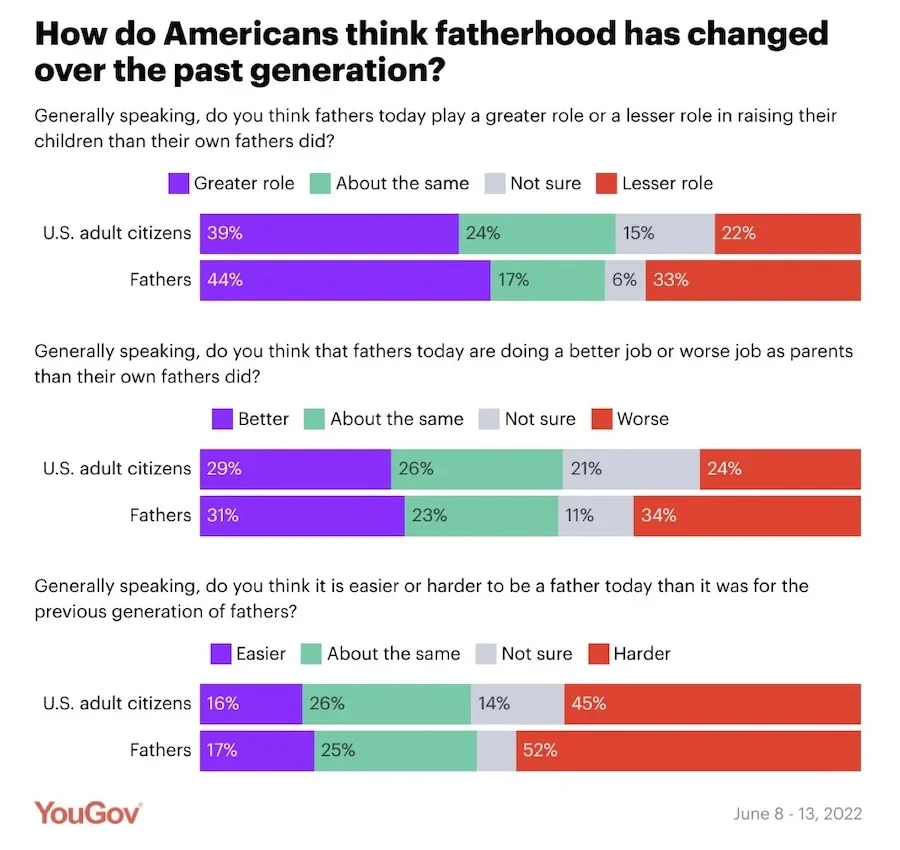 How do Americans feel about their own experiences with fatherhood? On a personal level, nearly half of men who consider themselves fathers say they're doing a better job as a parent than their own father did, while 28% say they're doing about the same, and 17% say they're doing a worse job.
Do fathers feel underappreciated? Almost half of Americans (46%) – including a slightly larger share of fathers (55%) – say that society does not adequately reward fathers for the work they do. However, according to a poll conducted in April, an even larger share of Americans (57%) say the same about mothers. Mothers are especially likely to feel underappreciated: 69% say they aren't rewarded to the extent they deserve.
In terms of their own biological father, more people say they have an extremely or very close relationship with them than say they have a moderately or less close relationship. Men and women are about equally likely to report a close relationship with their fathers. Black and White Americans were also equally likely to report close relationships with their biological fathers.
Americans appear less enthusiastic about Father's Day this year than they were about Mother's Day. Fewer (35%) say they plan to celebrate Father's Day this June than said they planned to celebrate Mother's Day in late April, around two months before (46%). A majority of people who plan to celebrate Father's Day say they'll have a special meal or celebration at home or somewhere else, while about one-quarter say they'll talk on the phone or video chat.
Below, we round up a few other findings on fatherhood from prior YouGov surveys:
— Carl Bialik and Linley Sanders contributed to this article.
This poll was conducted on June 8 - 13, 2022, among 1,000 U.S. adult citizens. Explore more on the methodology and data for this poll.
Image: Joice Kelly on Unsplash