(Week of 2/23/2013) Pope Benedict XVI's last days in the Papacy finds him achieving decidedly mixed assessments from Americans. Although Catholics in the latest Economist/YouGov Poll generally like the Pope, just about as many Americans overall now hold an unfavorable view of the Pontiff as hold a favorable one.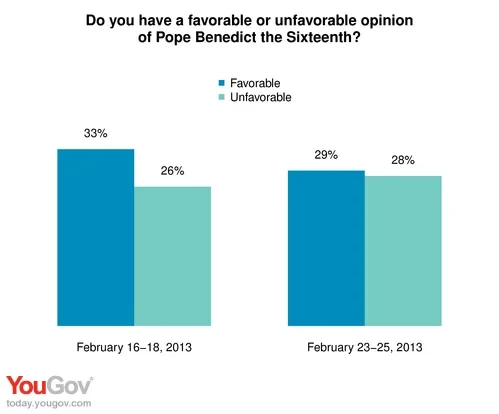 While more than four in ten Americans say they don't have an opinion one way or the other, sentiment has shifted just in the last week, as reports of new scandals in the Church have surfaced. Just last week, favorable views of the Pope outnumbered unfavorable ones by seven points.
What hasn't changed is the perception that the Pope's resignation is a mixed blessing: more think it will both help and hurt the Catholic Church than think the resignation will do just one of those things.
52% of Catholics view Benedict favorably; just 18% are negative. But non-Catholics are now negative: by 30% to 24% they have an unfavorable view of the Pope.