By a narrow margin, Americans tend to believe it is acceptable for a white person to wear black face make up on Halloween, although there are stark divides among different political and racial groups
Country music singer and Dancing with the Stars participant Julianne Hough sparked controversy recently when she arrived at a Halloween party in Beverly Hills, California, wearing dark make up to portray an African American character from the Netflix TV series Orange is the New Black. Critics pointed to the divisive history of 'blackface', (the darkening of one's skin to appear black) which was once used by white performers to play up racial stereotypes in performances known as 'minstrel shows'.
43% of Americans find it acceptable for a white person to use black face make up as part of a Halloween costume, and 37% find it unacceptable.
However, while nearly half (46%) of white Americans find black face make up acceptable, only about a fifth (21%) of African Americans feel the same way. And while one in three whites find it unacceptable, about seven in 10 (68%) black people do.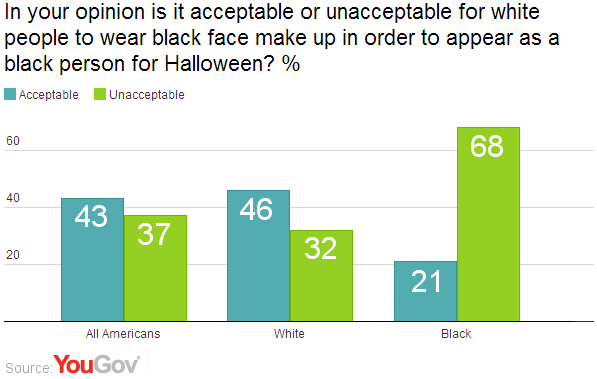 Even greater than the divide between whites and African Americans is the divide between Democrats and Republicans on the issue. Republicans find black face make up acceptable by a more than two-to-one margin (59%-27% unacceptable), while Democrats deem it unacceptable by an almost equal margin (30%-53%).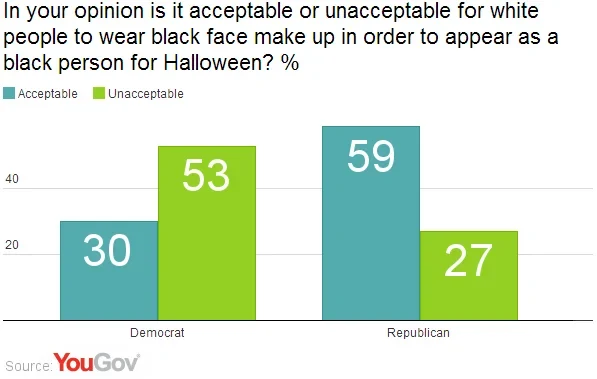 Americans are more evenly divided on the acceptability of dressing up as an 'ethnic or racial stereotype' for Halloween, which 40% find acceptable and 41% unacceptable, although the racial and political differences remain.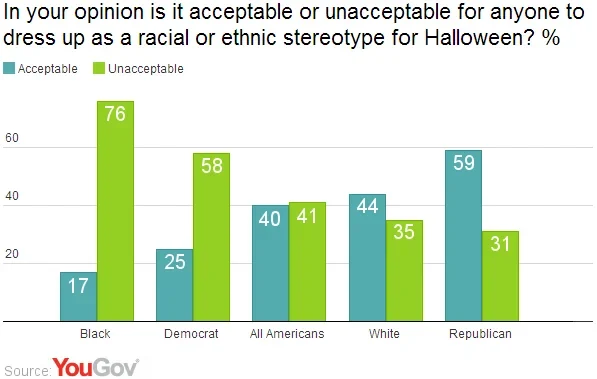 A white person wearing a mask to portray a particular black individual is considerably more accepted – by blacks and whites – at least when it is the President who is being portrayed. Overall 72% of Americans, including 52% of African Americans find it acceptable for a white person to wear a Barack Obama mask on Halloween. Interestingly, opinion among Republicans and Democrats is actually closer in this case, with a majority of both groups (60% of Democrats and 82% of Republicans) finding the Barack Obama outfit acceptable.
Julianne Hough, who has said her outfit was meant to 'honor' the character from the TV show in question, is not the only person to have stirred racially-charged, costume-related controversy this Halloween season. A white man in Florida was recently photographed wearing blackface to portray slain teen Trayvon Martin, and a university in Colorado made the news when it told students not to wear Halloween costumes that perpetuate racial or cultural stereotypes.
Full poll results can be found here.
Image: Instagram.