The Empire State Building may have lost its title of America's tallest skyscraper long ago, but it is still the nation's favorite.
One World Trade Center - the new skyscraper occupying the site of the former twin towers destroyed in the 9/11 terrorist attacks - is now officially the tallest building in the United States. The Council on Tall Buildings and Urban Habitat recently ruled that the large spire on top of what is colloquially known as 'Freedom Tower' isn't an antenna and is rather a spire and an integral part of the building. The decision means that the building's official height is 1,776 feet, making it taller than the 1,451 feet tall Willis (formerly Sears) Tower in Chicago. Nevertheless, One World Trade is not the world's tallest building, being beaten by the 2,717 feet tall Burj Khalifa in Dubai.
The latest research from YouGov shows that the country's tallest towers are cut down to size when their popularity is compared to America's favorite skyscraper, the Empire State Building. 34% of Americans choose the Empire State Building as their favorite in the country, nearly three more popular than One World Trade (12%) and the Willis Tower (10%) in Chicago.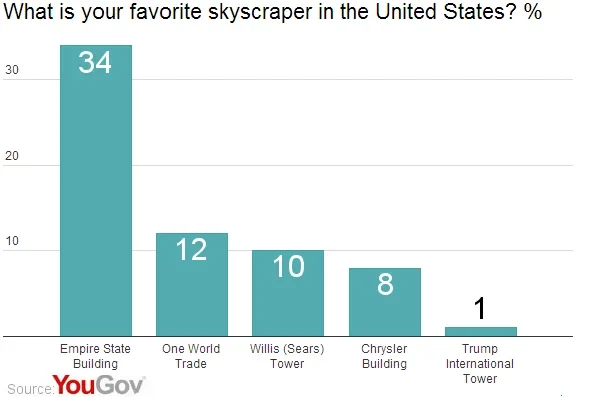 Unsurprisingly, the Willis Tower (23%) is most popular in Chicago's home region of the Midwest, though even here people are marginally more likely to choose the Empire State Building (24%). Support for the Empire State Building is actually highest in the South, where 40% of people say it is their favorite.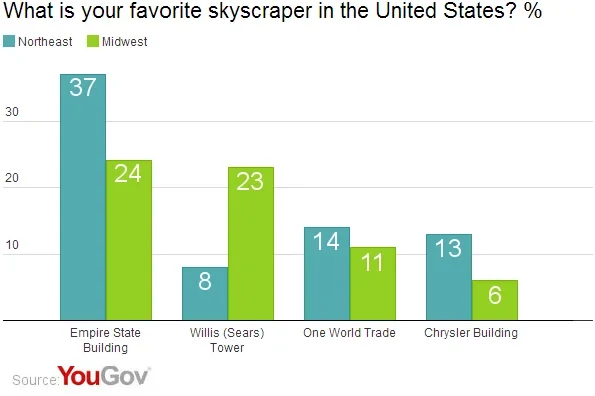 Asked to name the tallest skyscrapers, the public are largely correct in their assertions. Most Americans (51%) say that One World Trade is the tallest in the United States, while 43% know that the Burj Khalifa in Dubai is the world's tallest.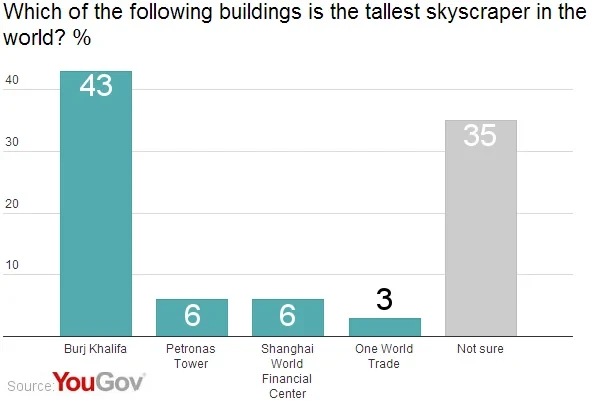 Only 8% of Americans think that the world's tallest building is in the United States. Until 1998, when the Petronas Towers in Kuala Lumpur took the title from the Willis Tower (then Sears Tower) in Chicago, the world's tallest buildings had always been in the United States since the modern age of skyscrapers began.
Full poll results can be found here.
Image: Google.