A majority of Americans will not shop for Black Friday sales, and over two-thirds have had to work on the Friday after Thanksgiving in the past.
Americans prefer to have Thanksgiving be a holiday – though just about half of adults say they have had to work on Thanksgiving Day itself at least once in their lives, according to the latest Economist/YouGov Poll. Most have had to go to work the day after Thanksgiving. So it may not be a surprise that the vast majority of the public doesn't like the fact that some stores will be open on Thanksgiving Day itself – and only a minority say they actually will shop on "Black Friday," the day after Thanksgiving.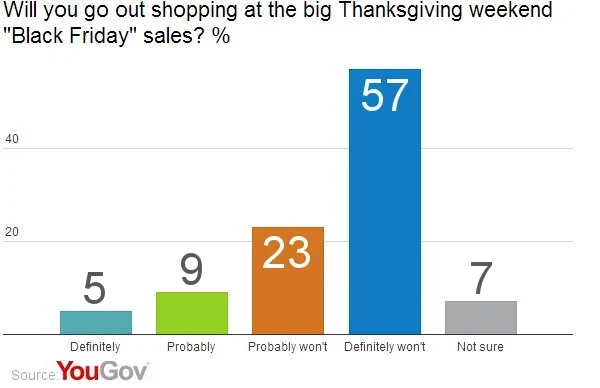 More than half the public believes stores should not open for their Thanksgiving weekend sales until "Black Friday" morning, though another 19% would let them open their doors at Midnight. Just 12% say it's appropriate for stores to start their sales on Thanksgiving Day itself. Those financially better-off, college graduates, and (perhaps surprisingly) liberals, are among the most likely to want to stick to tradition.
But the small percentage who will shop those "Black Friday" sales are spread across all groups; overall. 14% will definitely or probably shop that day, though just 5% say that is something they will definitely do. Still, that means a lot of people could be crowding malls and shopping centers over the holiday, even though a majority of the public are convinced they won't be in that group.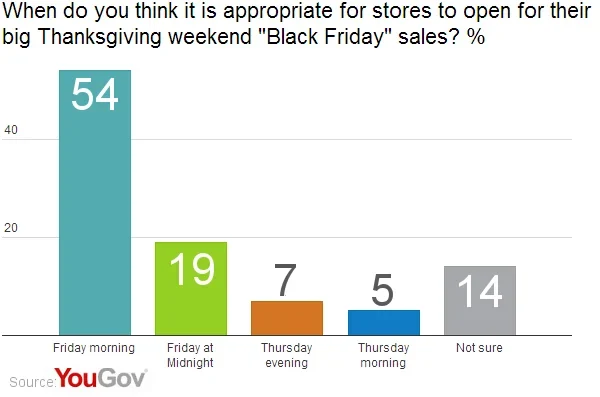 The most definite Black Friday shoppers are younger adults – those under 30. Those who are most sure they won't be in the stores that day are 65 years old and older.
And those who expect to shop will be traditionalists about it: just over half will wait until Friday morning to start their shopping. But one in four shoppers say they'll be in the stores on Thanksgiving Day.
Memories of having to work on the holiday are especially prevalent for some groups. 58% of men but just 38% of women say they have had to work the holiday at least once. 53% of those between the ages of 30 and 64 have. Income levels and partisanship don't seem to matter on this question.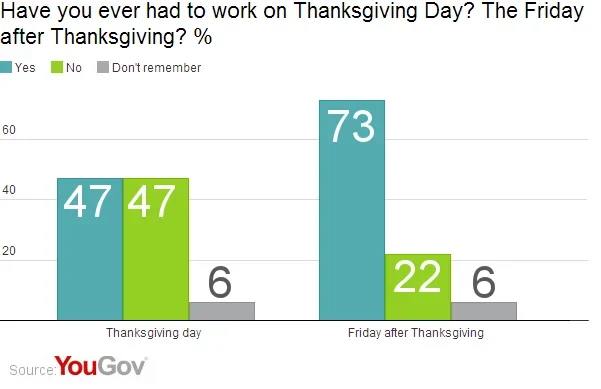 Nearly three in four Americans have not had the day after Thanksgiving off from work at least once in their lives. And the older you are, the more likely you have not had the benefit of a four-day Thanksgiving weekend at some point in time.
Full results can be found here.
Economist/YouGov poll archives can be found here.