Americans have more broken hearts, and have broken more hearts than their UK counterparts, but the majority in both nations agree it's better to have loved and lost.
Movie starts Diane Lane and Josh Brolin finalized their divorce earlier this week, leaving the stars single for the holidays. Heartbreak for the holidays is something no one wishes for, however; having your heart broken is a human experience that seems unavoidable across the globe.
According to the latest YouGov research, people in the United States are more likely to have had their hearts broken than people in the UK, by a margin of 18%.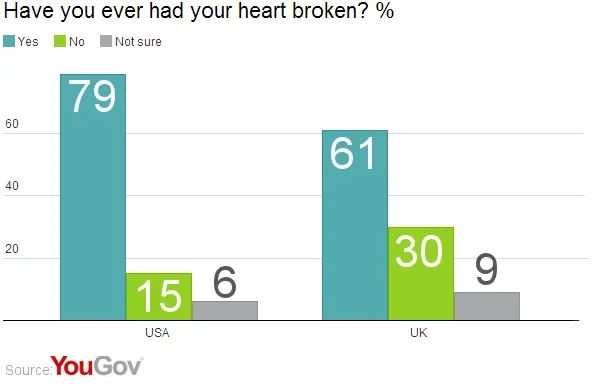 Americans are also more likely to have their hearts broken several times. People across the pond had an average of two heartbreaks, while people in the US had an average of five.
In both countries, more women than men have suffered from heartbreak. However, British women (65%) are still less likely to have experienced a broken heart than American men (73%).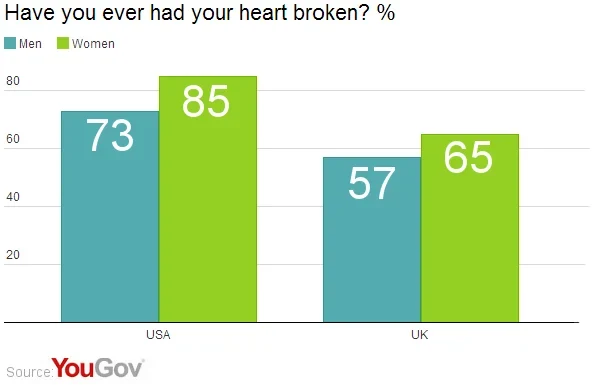 However, Americans may not simply be more sensitive, as it's also true that Americans break more hearts than the British. 39% of people in the US have broken a heart, while only 33% of British people have. Further, more British people have not broken a heart than have broken one.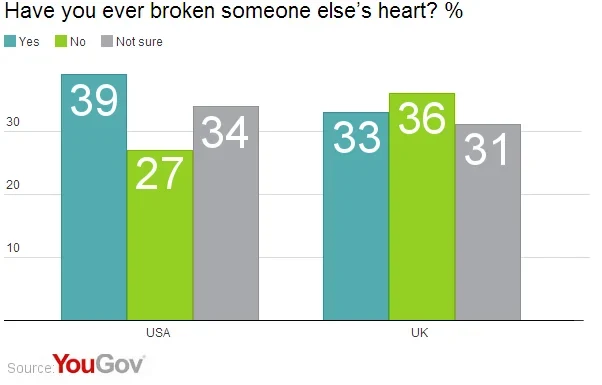 Something a majority of people in both countries do agree on, on the other hand, is that it is better to have loved and lost than never to have loved at all.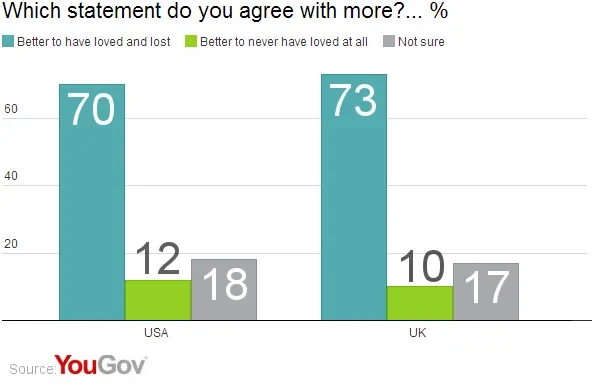 Break-ups and heartbreaks are a hard part of life for almost four out of five Americans, but it doesn't mean they can't sometimes be entertaining (if you're not the one involved). Last week comedian Kyle Ayers tweeted out snippets of conversation from two people who were breaking up on a rooftop in Brooklyn as he listened in. The tweets have since gone viral and Kyle has been interviewed by national news outlets including CNN.
Full poll results can be found here.