British TV may seem to be everywhere nowadays, but the most popular UK 'telly' exports are still classics from the 60s and 70s.
The Season 4 premiere of Downton Abbey on PBS has set a new record for a drama premiere on public television. 10.2 million Americans tuned in to watch the latest installment of the saga centering on a British artistocratic family in the early 20th century. Downton Abbey isn't the only hit to cross the ocean, though, with a number of other British shows - such as Doctor Who and Sherlock - winning large followings in the United States.
The latest research from YouGov shows, however, that British shows originating in the 1960s are still the most-watched by Americans. The Benny Hill Show, a slapstick sketch show that ran for twenty years before ending in 1989, is the most watched show, with 40% of Americans having watching The Benny Hill Show. In second place is the surreal sketch show Monty Python, seen by 38% of the public, followed by Doctor Who (27%) and the Avengers (27%), all three of which began in the 1960s. Out of the more recent shows, Sherlock (20%) and Downton Abbey (18%) are the most watched.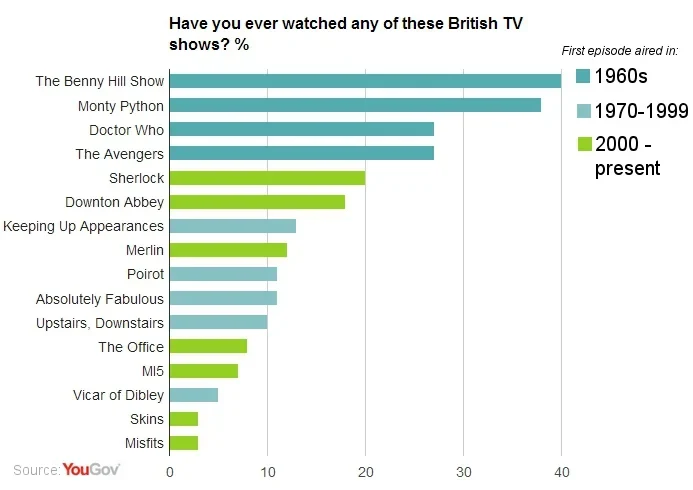 Unsurprisingly, older Americans are more likely to have watched shows like The Benny Hill Show and Monty Python that originated in the 1960s, but even modern classics such as Downton Abbey are more successful among older Americans. Most Americans of every age group have heard of Downton Abbey, but while only 13% of Americans under the age of 45 have watched it, 20% of 45-64 year olds and 27% of over-65s have sat down to enjoy an episode.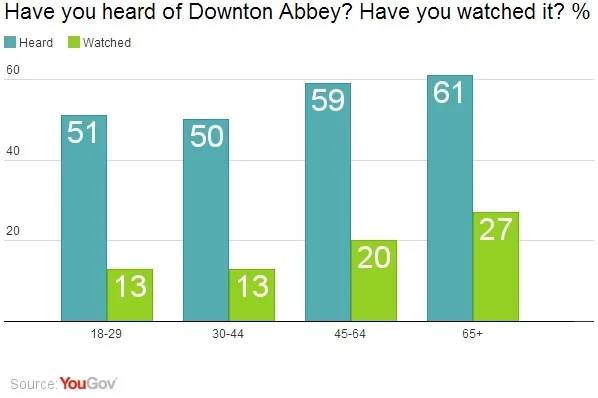 British TV exports may be receiving more media attention lately, but only 13% of Americans say that they're watching more British TV now. 18% say that they watch less, while 34% say that they just don't watch British TV shows.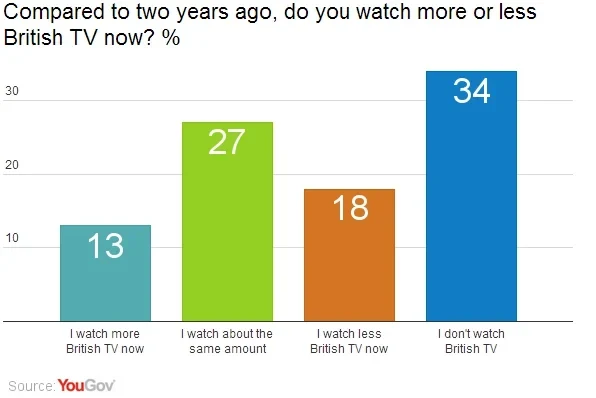 Downton Abbey's premiere isn't the only eagerly anticipated return of floppy-haired Brits to US airwaves. Sherlock, the 21st century take on the classic Sherlock Holmes stories starring Benedict Cumberbatch, returns to PBS on January 19th.
Full poll results can be found here.
Image: Getty Images