Tony Dungy, the famous head coach who led the Indianapolis Colts to a Super Bowl victory in 2007, is the top choice of NFL fans to enter the football Hall of Fame.
On January 9th, the Pro Football Hall of Fame in Canton, Ohio announced the list of 15 "modern era" finalists for induction in 2014. The Hall of Fame selection committee will narrow the list down to at most 5 "modern era" inductees. In the latest Economist/YouGov poll, we asked Americans to select who they would want to see enshrined in the Pro Football Hall of Fame this year.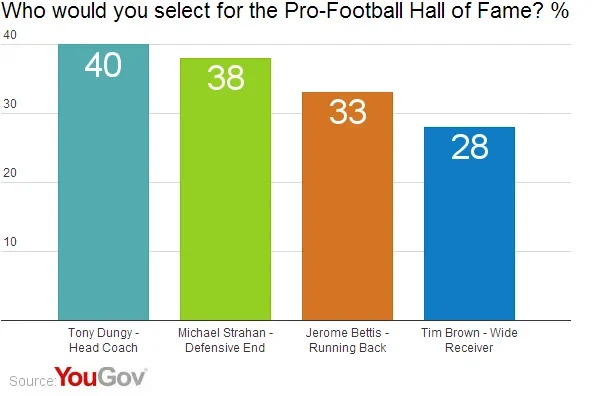 Our "selection committee" was composed of Americans who said they follow the NFL "very closely" or "somewhat closely". We then asked them to select up to 5 people from the list of finalists. Four of the men on the list stood out from the other 11 and easily captured a space on our list. The final spot was contested by three men on the list.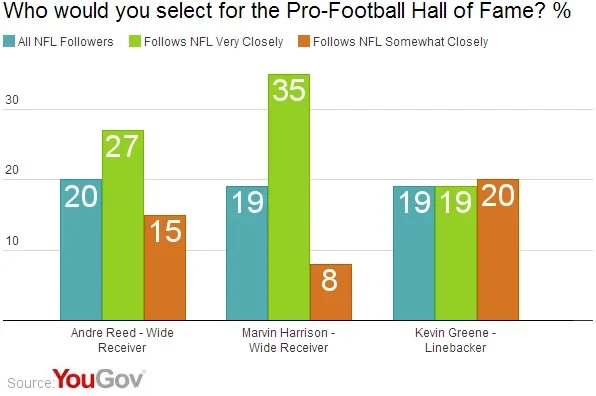 Those who follow the NFL "very closely" picked Harrison for the fifth spot. Those who follow the NFL "somewhat closely" favored Greene. However Andre Reed was able to sneak by both men, Harrison and Greene, garnering just one more percentage point of support overall.

The Hall of Fame will announce the inductees on Saturday, February 1, 2014 at the NFL Honors Show.
Full poll results can be found here.
Image: Getty Images