Johnny Carson is the favorite late-night host of all-time for around half of over-45s, but no host in the modern late-night era – Jay Leno included – manages the same level of popularity with younger audiences
Last Thursday night, Jay Leno aired his final The Tonight Show on NBC. Leno has been the late-night host for 22 years, quipping in his opening monologue "When I started hosting, Justin Bieber wasn't even been born yet. That's why we call those 'the good old days." The Tonight Show mantle was handed down to him from Johnny Carson back in 1992, and Jimmy Fallon is set to start hosting the prestigious show at the on the 17th of February. Fallon is not new to the hosting game, and is currently the host of his own show Late Night with Jimmy Fallon, which is also on NBC.
According to the latest YouGov research, Leno failed to definitively win over fans of his predecessor: more than half of people over 45 chose Johnny Carson as their favorite late-night host, and Leno manages only 5% and 7% with the 18-29 and 30-45 age groups. But the differences between viewers over 45 years of age and those under 45 – among whom there is no obvious favorite and many hosts manage between 4% and 16% – also suggest a changing landscape in late-night TV, where no single host can dominate the genre like Carson did.
Overall Johnny Carson, who helmed the Tonight Show for 30 years, is the favorite talk show host of all time with almost a third of all Americans (32%) saying he is their favorite. Most of the late night hosts currently on TV were the favorite for between 3% and 6% of people.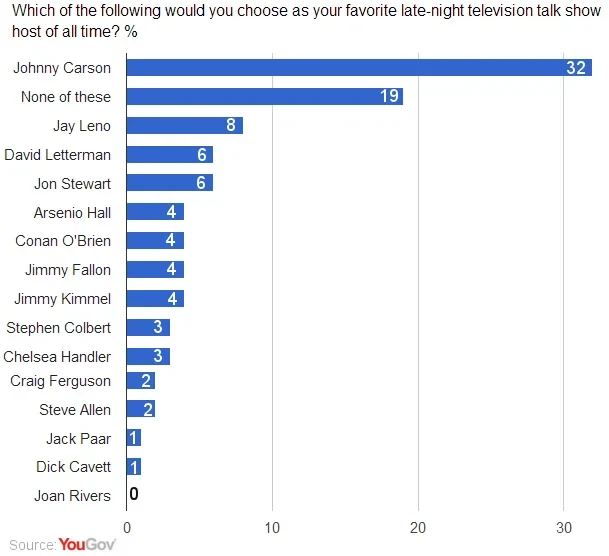 Jay Leno, while being the second most popular, is not even half as popular as Carson. 'None of these' was actually the second-most popular option overall – and the number one most popular choice among Americans aged 44 and younger.
Jon Stewart and Jimmy Kimmel are the top picks among among 18-29 year olds (11% and 12%) than those 45-64 (5% and 2%), while only 4% of younger people chose Johnny Carson as their favorite.
Leno and Fallon both well-liked
More Americans have a favorable view of Leno (58%) than Fallon (46%), but many (37%) haven't made up their minds on Fallon just yet.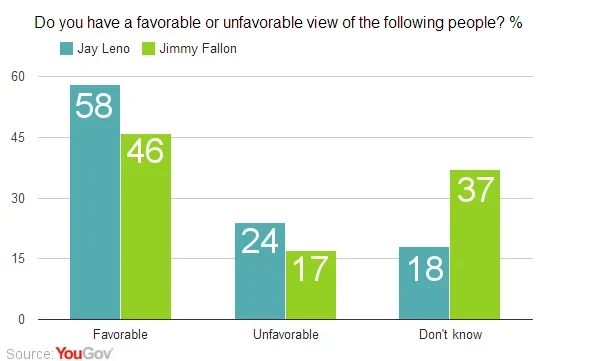 Fallon is already viewed favorably by a slightly larger proportion of under-30s than Leno, however (49% for Fallon compared to 45% for Leno).
Leno's final show garnered a 4.2 rating in households, or around 5.2 million Americans, and was the most watched late night show in over four years. On exit he said, "I'm really excited for Jimmy Fallon. It's fun to be the old guy and see where the next generation takes this great institution." But the future of latenight is anything but secure.
Full poll results can be found here.
Image: Getty