Nearly half of Americans haven't tuned into the Olympics, but avid watchers are more likely to prefer Bob Costas.
The conditions for reporters in Sochi, Russia have been quite poor. So last week, when primetime Olympics broadcaster Bob Costas came down with an eye infection, it came as an ugly reminder of the living conditions in the city. Costas' eyes ended up the brunt of a wave of social media users comparing his eyes to different things. The infection is reportedly now so bad, that Matt Lauer from NBC's Today Show has taken over for him for a few days. Sochi has been plagued by terrorist threats, warm weather, and poor living conditions, to the point that the sports events themselves, may not be the main attraction anymore.
According to the latest YouGov research, 43% of Americans have not watched any of the Olympics, about a third (36%) have watched a few, but only 21% have self-reported watching many events.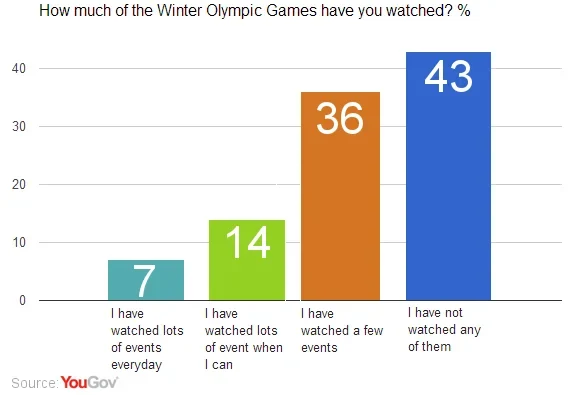 Bob Costas, a major broadcastor of Olympic coverage, is much preferred by those who watch many Olympic events. Roughly a quarter of those who report watching many events everyday (24%) or whenever they can (27%), like watching the Olympic broadcasts more when Bob Costas is hosting, in stark contrast to those who watch few or no events. However, many people don't care (38%), or aren't sure (36%) who is reporting Olympic results.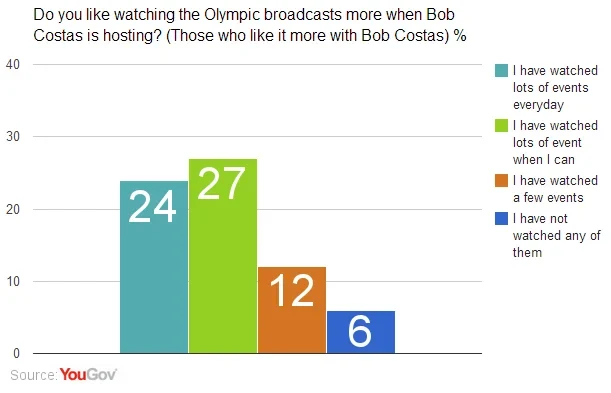 Full poll results can be found here.
Image: Getty