In honor of International Women's Day, global research agency, YouGov, ran a multi-country Omnibus study asking women what they think about their work, personal safety and body image.
YouGov surveyed a representative sample of women from the UK, US, France, UAE, Saudi Arabia, Egypt and Morocco in February and March 2014.
Women in all countries surveyed overwhelmingly agreed that motherhood is more important than career – with around 4 in 5 women prioritizing motherhood. The US, however, had the highest focus on career with 71% of American women feeling motherhood is the most important compared to 11% putting career first.
Family and career are not mutually exclusive, and the majority of US women aspire to have both a family and a career. 54% of American women do (or did) aspire to having a career as well as a family compared to around one third (34%) who did not.
Do you think that being a mother is more or less important than having a career?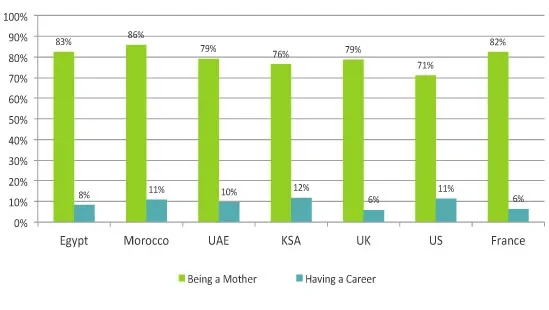 Personal Safety
Women in the UK and UAE generally feel safer on public transport (79% and 75%) than other countries surveyed. Only 36% of French women and 45% of Moroccan women feel safe on public transport. Women in the UAE and UK generally feel safe while traveling alone (67% and 66%), compared to women in Egypt (38%) and KSA (40%) who feel the least safe among those surveyed.
Six in 10 (58%) American women feel safe using public transport, and 57% feel safe to travel alone.
How safe, if at all, would you say you feel/ would feel in the following environments?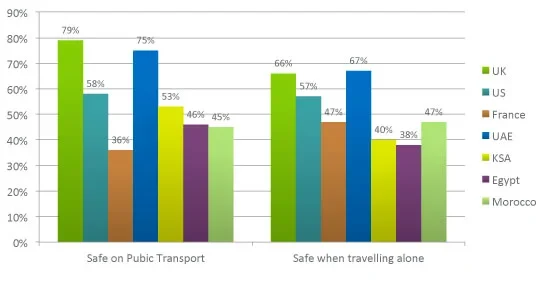 Body Image
Among the countries surveyed, women in Saudi Arabia are most likely to say they are happy with the way they look (76%), followed by Egyptian women (73%). The French and English are far less confident, with only 41% of French and 43% of British women admitting to being happy with their looks. Women in Morocco are most likely to say they are 'very happy' with the way they look (36%), while women in the UK are least likely to say this (3%).
Women across the nations surveyed experience different expectations when it comes to personal grooming. Women in France are the most likely to wear make-up even to run errands (47%), followed by women in the US and UK (37% and 36%, respectively).
The survey also found that women in Egypt are most likely to feel pressure from society to dress a certain way (58%). Roughly one-third (33%) of women in France say the same, compared to just over one-quarter of respondents in the UK (27%) and the US (26%).
Finally, to complete their preparations, women from the UK, Egypt and UAE take the longest time to get ready in the morning, with 33% (UK), 32% (Egypt) and 30% (UAE) of women taking on average 30 minutes or more to get ready every morning. Women in Morocco are by far the quickest, with only 12% taking over 30 minutes to get ready.
For further information about poll results, and for details about methodology and omnibus services, please email omnibus.us@yougov.com.
Find the full results here: UK, US, France, KSA, UAE, Egypt, Morocco
Image: Getty