Most people think that parents should help their adult kids with college costs and health insurance, but after that the kids are on their own
Earlier this month the legal bid by 18-year-old Rachel Canning to force her parents to pay her child support failed after a New Jersey judge rejected her case. Rachel, who attends a private Catholic high school, had sued her parents to make them pay her school tuition, college tuition and $650 a week in child support. Rachel Canning returned home to her parents last week, but a hearing is still scheduled for April to determine whether the parents have any legal obligations towards their adult daughter.
The latest research from YouGov shows, however, that even if most Americans might not think that parents should legally be forced to support their adult children, they do think that parents owe them a little help after they turn 18. Most people (57%) say that parents have a responsibility to help adult children with college costs, and also tend to think that parents should help children with health insurance (48%) and allow them to move home (45%) if they need to.
After that, however, adult children are on their own. Most people think that parents have no responsibility to help their children with spending money (69%), phone bills (66%), rent (64%), transport (63%) or legal costs (57%).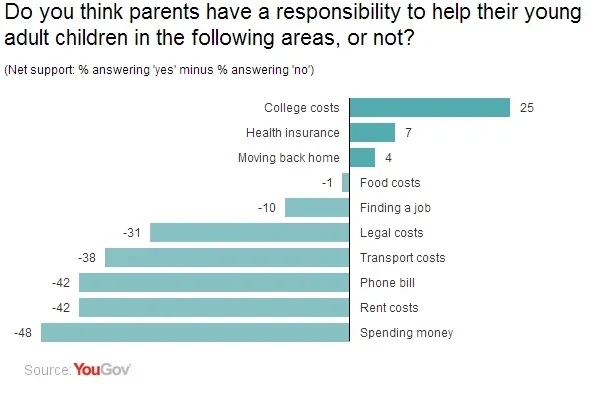 Full poll results can be found here.
Image: Getty