Even strong opponents of abortion oppose the boycott of Girl Scout cookies by pro-life activists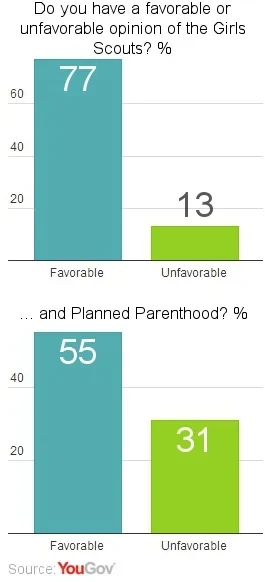 The Girl Scouts annual drive to raise funds by selling delicious cookies has hit an unexpected snag this year - a boycott by anti-abortion activists. The boycott, dubbed CookieCott 2014 by the organizers, was prompted by allegations that the Girl Scouts have promoted Wendy Davis, a pro-choice Texas politician, as well as the alleged links that exist between Girl Scouts and Planned Parenthood.
This isn't the first "CookieCott", however. Waco was the site of the first boycott in 2004, after the Girl Scouts of Central Texas gave an award to a local Planned Parenthood official. Despite this, the Girl Scouts of Central Texas said that the boycott didn't stop them from having their best ever year for cookie sales.
The latest research from YouGov shows that most Americans (69%) oppose the boycott on Girl Scout cookies. Opinion on the boycott varies widely, however, with opponents of all abortions being the most likely (32%) to support the boycott, along with just over a quarter (26%) of people who think that abortion should be illegal in most cases.
Despite the controversy, however, most Americans have favorable opinions of both the Girl Scouts (77%) and Planned Parenthood (55%). Nevertheless, while attitudes towards the Girl Scouts tend to be the same regardless of party identity, Democrats (74%) are more likely than Republicans (39%) to have positive views of Planned Parenthood.