Looking back on Barbara Walter's career, her interviews are widely respected but her time on The View comes in for criticism
Barbara Walters retired from 'The View' on Friday, topping off a long and varied career that began in 1962 at NBC and saw her become the face of ABC News and their flagship documentary program 20/20. Her career isn't totally over, but at the age of 84 she could be forgiven for wanting to take it easy from now on. She is still on contract with ABC to conduct major interviews, and will still be the executive producer of 'The View' but will no longer be a regular fixture on TV.
The latest research from YouGov shows that her interviewing skills are seen as her greatest asset, with 38% of Americans saying she did her best work interviewing celebrities and 23% saying her best work was her 'hard news' interviews, for example when she interviewed Syrian President Bashar al-Assad in 2011. Her work on 'The View' is seen as her worst work, with 41% of Americans saying that was where she did the worst job.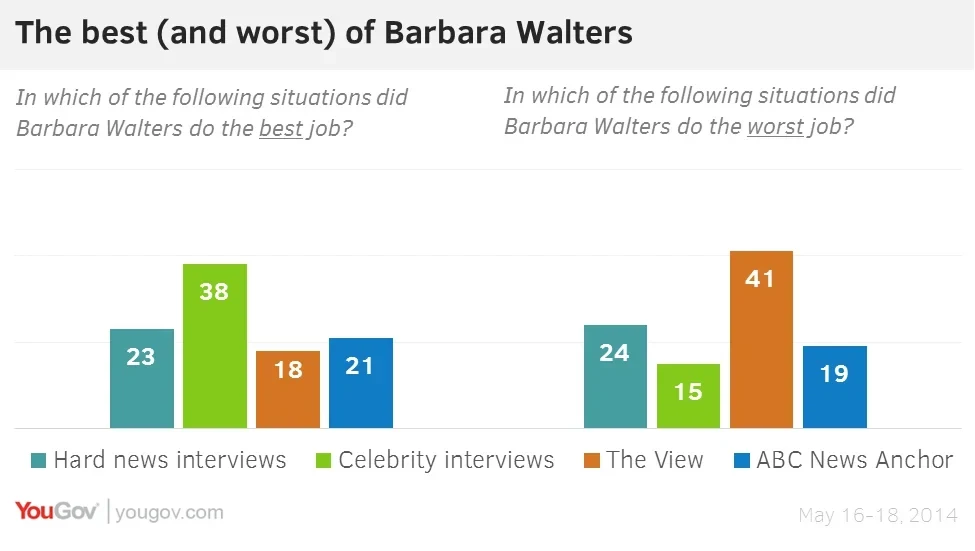 Over the past 17 years, 'The View' has acquired something of a liberal reputation, most notably around 2006 and 2007 when the show's line-up included Rosie O'Donnell who routinely criticized then President Bush and the conduct of the Iraq War, famously clashing with Elisabeth Hasselbeck.
Some of this may have rubbed off on Barbara herself, who is noticeably more popular among Democrats (and unpopular among Republicans) than among other groups. 71% of Democrats have a favorable opinion of Barbara Walters, while only 12% have an unfavorable opinion. Republicans also tend to like her, with half having a favorable opinion of her, but over a third (38%) say that they have an unfavorable opinion of Barbara Walters.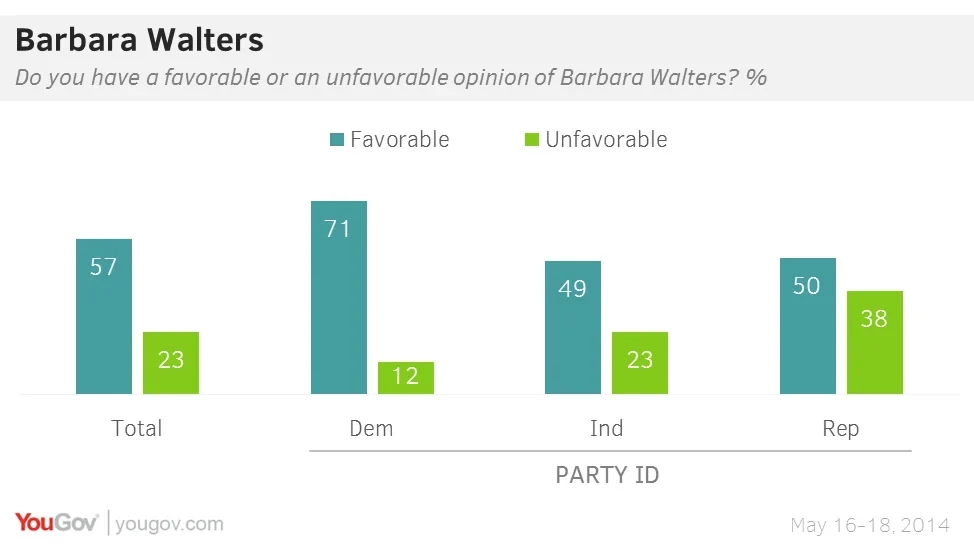 Barbara Walters is more popular than other celebrities that YouGov has profiled, with a higher favorability rating than Martha Stewart (45%) and Piers Morgan (24%), though she is about as popular as Jay Leno (58%), who also recently retired.
Full poll results can be found here.
Image: Getty