Five years after his death at his Los Angeles home, the American public's opinions of Michael Jackson have turned around and he is fondly remembered for his music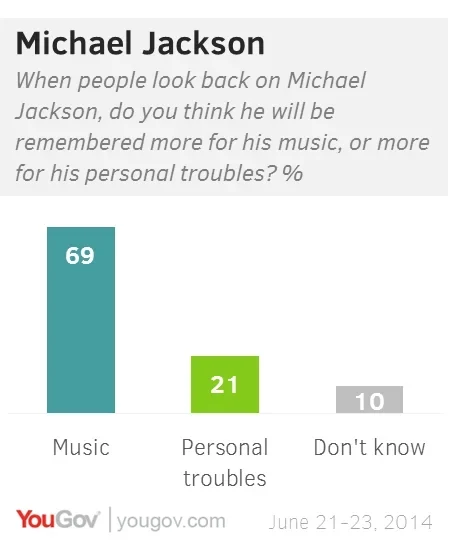 Michael Jackson may have died five years ago, but his music is still remembered and liked by Americans. When they evaluate rock and roll stars, "King of Pop" Jackson finishes second only the "The King" Elvis Presley. And in the latest Economist/YouGov Poll, more than three times as many Americans say Jackson will be remembered for his music than for the troubles that surrounded him and the sad nature of his death.
Jackson's music made an impression on Americans. So did Jackson. By 61% to 32%, Americans like him. However, in December 2003, after his arrest on child abuse charges, the Gallup Poll found a very different image: two-thirds of Americans had an unfavorable opinion of the singer. Jackson was acquitted of all charges in his 2005 trial.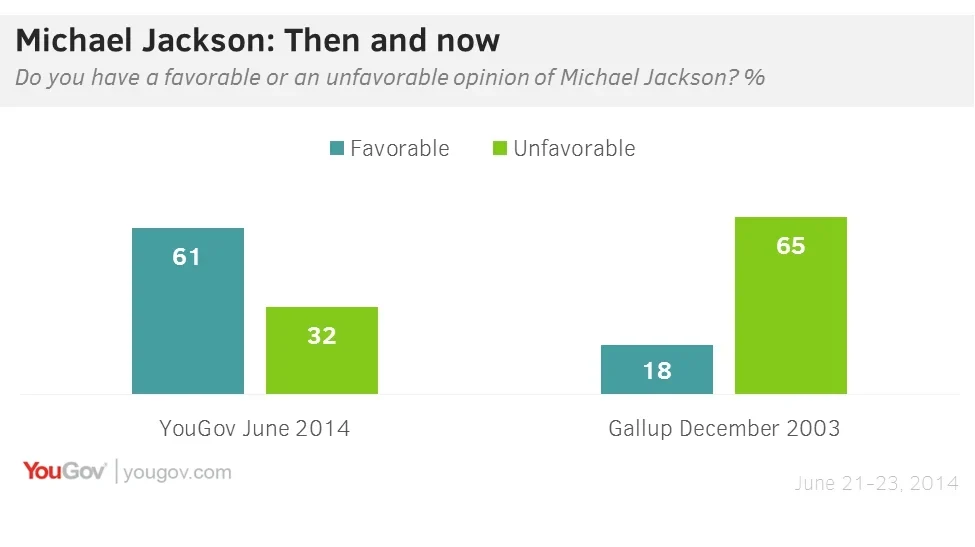 Looking back now, 40% of Americans see the media as being harder on Jackson than they usually are on celebrities. And African-Americans are even more likely to judge media coverage of Jackson harshly. 51% of blacks say the media was harder on Jackson than on other celebrities.
For African-Americans, Jackson is a bigger star than Elvis Presley. Asked to choose from a number of male rock and rollers who became famous in previous decades, two out of three blacks in the Economist/YouGov Poll chose Jackson. Overall, however, Jackson ranked behind Elvis Presley, who was especially favored by those 65 and older, many of whom were teenagers when Presley emerged in the 1950's.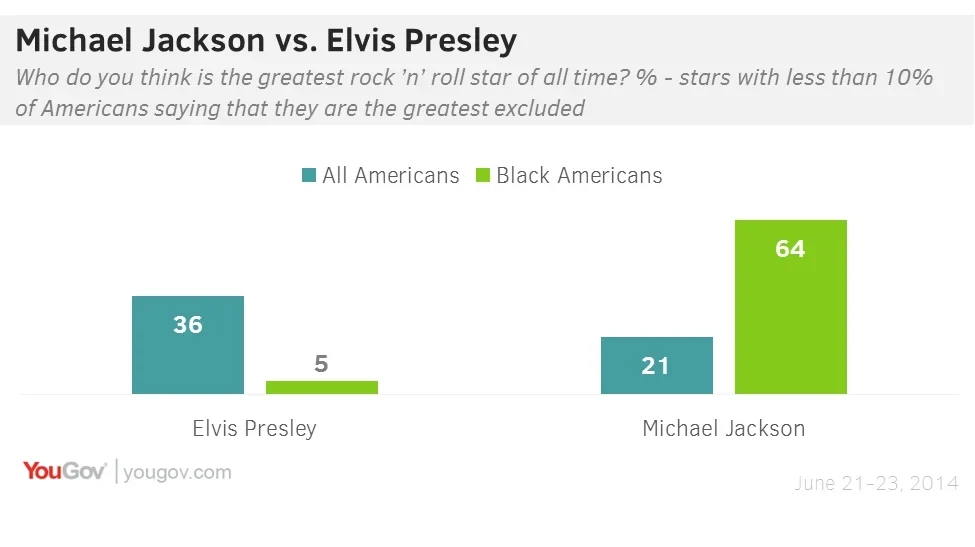 The Jackson Five, the family group in which the six-year old Michael Jackson first reached prominence, bests all the later "boy bands," as the greatest "boy band" ever. The offered list went back to the late 1950's and early 1960's, but excluded the Beatles. The only challengers to the Jackson Five's dominance were from that earlier era: 21% picked the Jackson Five, 12% the Four Seasons, and 10% the Monkees (who were probably the first manufactured "boy band").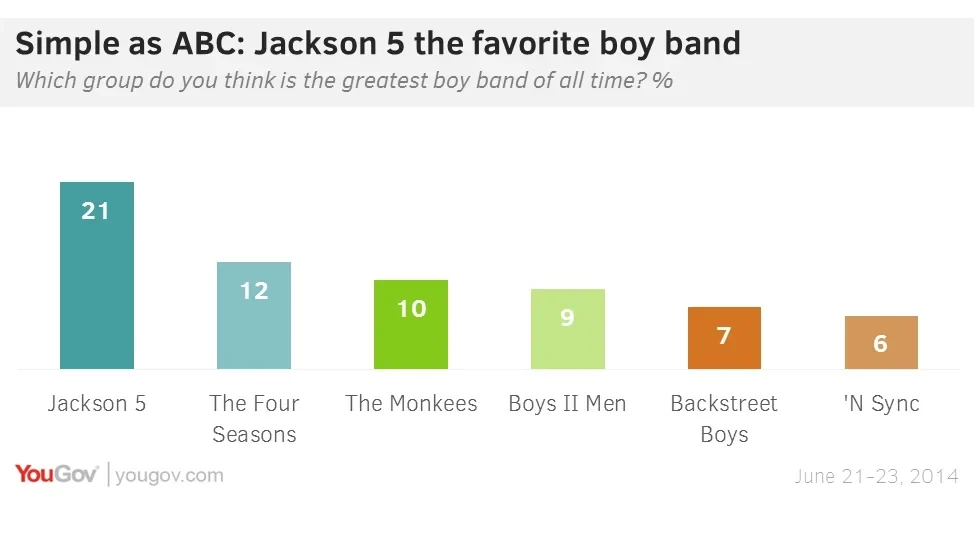 For African-Americans, Boys II Men ranked second. Those 65 and older were the only group to put any other group ahead of the Jackson Five; their number one choice was the Four Seasons. The current prominence of that group may be due in part to "Jersey Boys," the hit Broadway show about their rise, the movie version of which was just released.
As for Jackson's songs, there appear to be three favorites in this poll: "Billie Jean," which was especially popular with men; "Beat It;" and "Man in the Mirror," ranked first by women and African-Americans.
Image: Getty
Full results can be found here.
Economist/YouGov poll archives can be found here.