The vast majority of Americans say that smoking cigarettes doesn't look cool, though most don't think that being a smoker reflects any broader moral inferiority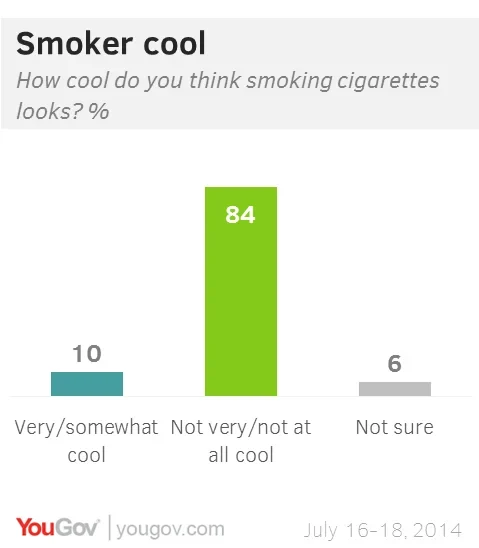 R.J. Reynolds, one of the country's largest tobacco companies, is set to pay out $23.6 billion in damages to a Florida woman whose husband died of lung cancer in 1996. Since a landmark case in 2008 families of people who died from tobacco use no longer need to prove that tobacco companies concealed the health risks of smoking in order to win damages. At the same time as they were concealing the ill-effects of smoking, tobacco companies were pushing an image of smoking as 'cool', through iconic adverts such as the Marlboro Man and the Virginia Slims female empowerment campaigns.
The latest results from YouGov shows that the vast majority of Americans (84%) think that smoking doesn't look cool. Only 10% say that it looks cool, with Democrats (16%) and 30-44 year-olds (16%) being the most likely to say that it looks cool. Over-65s (4%) and Independents (5%) are the least likely to say that it looks cool.
On the whole, however, Americans don't judge smokers particularly harshly. Only 20% say that they think smokers are less hardworking than non-smokers and only 9% think that non-smokers are 'morally superior' to smokers. Despite the fact that over-65s are the least likely to say that smoking looks cool, they are also the least likely (5%) to say that non-smokers are morally superior. Under-30s are the most likely (16%) to say that if you smoke you are morally inferior to non-smokers.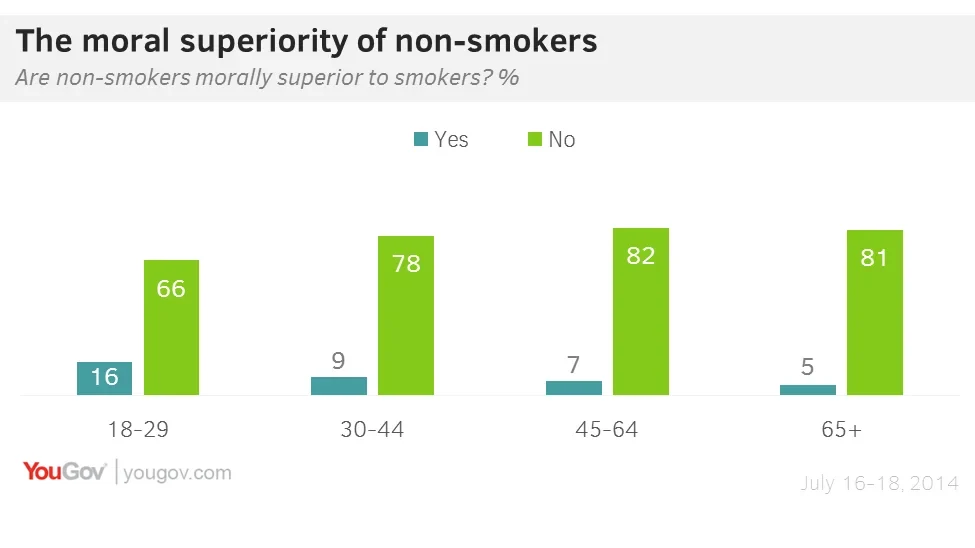 YouGov asked respondents if they had smoked more than 100 cigarettes over the course of their life. Most people (52%) now say 'no', with under-30s being by far the most likely (76%) to say that they have not smoked more than 100 cigarettes in their life. Poorer people, and men, are more likely than others to say they have smoked more than 100 cigarettes.
Over the past fifty years, the number of regular smokers has plummetted from 42% in 1965 to 19% in 2011.
Full poll results can be found here.