20% of Americans said correctly that it was the month-long holiday of Ramadan when asked last week, and 38% say they personally know someone who is Muslim
Muslims around the world recently celebrated Eid ul-Fitr, a holiday marking the end of Ramadan. Ramadan is a holy month for Muslims, during which they do not eat or drink water from sunrise to sunset. Ramadan and Eid ul-Fitr are major event in countries with large Muslim populations, but a YouGov poll reveals that few Americans were even aware Ramadan had taken place over the last month, and only a minority personally know someone who is Muslim.
In the survey respondents were asked when Ramadan was and given three options – this month, last month or next month – and only 20% correctly answered that it was "this month". 17% though Ramadan had already passed, 6% thought it was on the way and 57% said they weren't sure.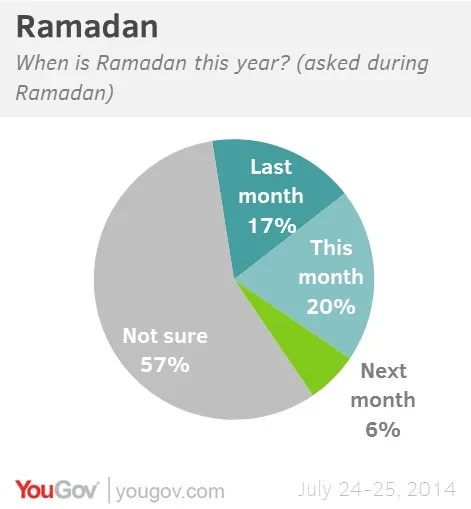 About twice as many people as could say when Ramadan report personally knowing a Muslim (38%).
The number varies among different groups, however. The largest gap exists between people with families making over $80,000 a year and those who make less than that. Nearly six in ten (59%) of those in the higher income bracket personally know at least one Muslim, compared to only a third (33%) of people from the lower bracket. However, the wealthier group is much smaller.
Around 2.8 million Muslims live in the United States, according to 2010 estimates.
Nevertheless, Americans are mostly confident they could fast from sunrise to sunset, as Muslims do on Ramadan. Here the biggest difference depended on age: under-30s are far less likely to think they could go a day without food or water (43% believe they could) compared to over-65s (64%).
Image: Getty
Full poll results can be found here.