Twice as many Americans want to see the Seahawks dominate this weekend's Super Bowl than Patriots. 37% of Americans want a Seattle Seahawks win on Sunday compared to only 18% who want a New England Patriots win. 46% of Americans are undecided or don't care.
Despite their current popularity issues, Patriots supporters are still more bullish about the quality of their team coach. 67% of Patriots Super Bowl supporters think Bill Belichick is the best coach, compared to Seahawks supporters, less than half of whom (47%) think Pete Carroll is the best leader out of the two.
Who do you think is the better team coach?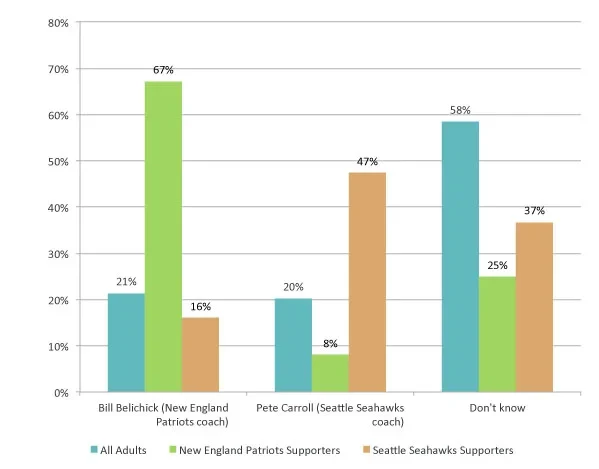 American adults are almost equally divided with 21% thinking Bill Belichick the superior coach compared to 20% for Pete Carroll.
No surprise for New England Patriot supporters that Tom Brady is their favorite Patriots player with 45% nominating him, next up for them is Rob Gronkowski at 13%. Favorite Seahawks players for Seattle Seahawks supporters are Russell Wilson (23%) and Richard Sherman (16%). The occasionally monosyllabic Marshawn Lynch appears to be more popular with Patriots supporters (10%), than with his own Seattle supporters (7%).
Which, if any, of the following players is your favorite from the New England Patriots?

Which, if any, of the following players is your favorite from the Seattle Seahawks?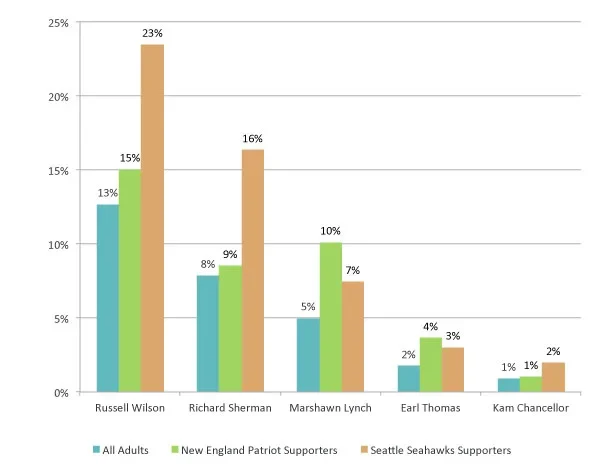 For further information about Omnibus results, and for details about methodology and Omnibus services, please email omnibus.us@yougov.com.
Find the full results here.

Image courtesy of Press Association